National Assembly of the Republic of Serbia / Activities / National Assembly / Members of Parliament / Members of Parliament activities
Members of Parliament activities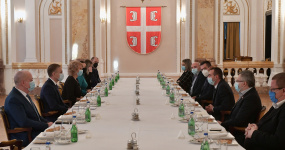 Thursday, 19 November 2020 |
On 19 November 2020, the Defence and Internal Affairs Committee had a working meeting with Deputy Prime Minister and Minister of Defence, Dr Nebojsa Stefanovic, at the Guard House at Topcider.
Thursday, 19 November 2020

Wednesday, 18 November 2020

Friday, 11 September 2020
Friday, 11 September 2020

The National Assembly House hosted the Conference "We Remember and Stand with the US", dedicated to the memory of the terrorist attacks of 9/11 in New York and Washington, organized by the Serbian-American Friendship Congress (KSAP).

Monday, 7 September 2020

Today at the National Assembly House, MP Prof. Dr Vladimir Marinkovic received a delegation of the Global Council for Tolerance and Peace (GCTP), headed by its President, Ahmed bin Mohammed Al Jarwan, which came to Serbia with the mission of persuading our country to join the organization. The Global Council for Tolerance and Peace is an international organization dedicated to spreading the principles of peace and tolerance in the world, fighting discrimination, racism, religious and ethnic extremism.