National Assembly of the Republic of Serbia / Activities / National Assembly / Economic Caucus / 3 June 2016 legislature
3 June 2016 legislature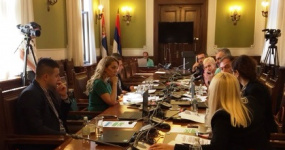 Monday, 23 April 2018 |
At the sixth meeting, the Economic Caucus reviewed a number of amendments to be proposed to the Bill on Procedure for Registration into Real Estate and Power Lines Cadastre.
Wednesday, 4 April 2018

Friday, 29 September 2017

Wednesday, 18 January 2017
Monday, 3 October 2016

At its second meeting, held at the National Assembly House, the Economic Caucus reviewed the Bill amending the Law on Financing Local Self-Governments, elaborated by Minister of Public Administration and Local Self-Government Ana Brnabic.

Monday, 3 October 2016

National Assembly Deputy Speaker Prof. Dr Vladimir Marinkovic convened the first meeting of the Economic Caucus, Republic of Serbia National Assembly Economic Development Parliamentary Group.
tuesday, 26 september
13.00 - press conference of the MPs of the DIRECTION EUROPE – SSP, PSG, OVERTURN, SLOGA; Green – Left Front, Don't Let Belgrade D(r)own; Democratic Party – DS; WE HAVE TO – TOGETHER and People's Movement of Serbia – Ecological Uprising – New Face of Serbia parliamentary groups (National Assembly House, 13 Nikola Pasic Square, Central Hall)