National Assembly of the Republic of Serbia / Activities / National Assembly / Working Bodies / Public Hearings
Committees may organise public hearings for the purpose of obtaining information, or professional opinions on proposed acts which are in the parliamentary procedure, clarification of certain provisions from an existing or proposed act, clarification of issues of importance for preparing the proposals of acts or other issues within the competences of the committee, as well as for the purpose of monitoring the implementation and application of legislation, i.e., realisation of the oversight function of the National Assembly. The procedure for organising public hearings is regulated by the National Assembly Rules of Procedure.
National Assembly
Rules of Procedure, a
rticle
s
8
3 and 8
4
Public Hearings - reports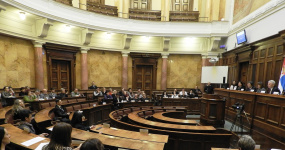 Thursday, 28 November 2019 |
The Committee on the Judiciary, Public Administration and Local Self-Government organized a public hearing on the Bill on Ascertaining the Facts about the Status of New-Borns Suspected to Have Gone Missing from Maternity Wards in the Republic of Serbia.
Tuesday, 26 November 2019

Friday, 22 November 2019

Thursday, 19 September 2019
Public hearings are organized and this subpage was designed with the help of the United Nations Development Programme (UNDP) and the Swiss Agency for Development and Cooperation (SDC), via project "Strengthening the Oversight Role and Transparency of the National Assembly of the Republic of Serbia".
The opinions and content on this subpage are not necessarily the stance of UNDP and/or SDC.