National Assembly of the Republic of Serbia / Activities / Activity details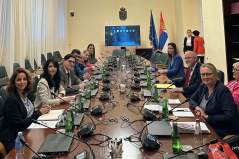 2 October 2023 The participants of the meeting
Monday, 2 October 2023
Constitutional and Legislative Issues Committee Members Meet with PACE Monitoring Committee Delegation
The members of Committee on Constitutional and Legislative Issues met in the National Assembly with the delegation of rapporteurs of the Monitoring Committee of the Parliamentary Assembly of the Council of Europe (PACE), currently in an official visit to the Republic of Serbia.
---
Constitutional and Legislative Issues Committee member Ugljesa Mrdic said that in the previous National Assembly legislature, this Committee had a notable role in the process of adopting constitutional reforms in the field of the judiciary, holding 11 public hearings in which, in addition to the MPs, representatives of the professional public took active part, as well as representatives of civil society, professional associations and international organisations. The current National Assembly legislature continued this significant work with the adoption of a large number of laws related to the adopted changes to the Constitution, with the aim of achieving an even greater degree of independence of the judiciary and autonomy of the prosecution, Mrdic pointed out, adding that recommendations of the Venice Commission, PACE and GRECO have also been adopted.
Pace Monitoring Committee Rapporteur Axel Schafer stressed that, during the visit to the Republic of Serbia, it is important to establish with relevant factors the degree of fulfilment of our country's obligations towards the Council of Europe and that he would submit his report to the PACE Committee, as well as to the relevant authorities of the Republic of Serbia.
The meeting was also attended by Committee members Jelena Milivojevic, Dubravka Kralj, Zoran Tomic, Zika Bujuklic, Dragan Nikolic, Milica Nikolic, Olja Petrovic, as well as the Deputy Head of the Council of Europe Mission in Serbia, Nadia Cuk.
The officials stated that, after the adoption of the important judiciary laws, it is crucial to control their application. In the course of the meeting, there was also talk about the participation of civil society in the work of the Committee on Constitutional and Legislative Issues, possible changes to the electoral legislation and the execution of judgments of the European Court of Human Rights in Strasbourg.
---
---
| M | T | W | T | F | S | S |
| --- | --- | --- | --- | --- | --- | --- |
| 27 | 28 | 29 | 30 | 1 | 2 | 3 |
| 4 | 5 | 6 | 7 | 8 | 9 | 10 |
| 11 | 12 | 13 | 14 | 15 | 16 | 17 |
| 18 | 19 | 20 | 21 | 22 | 23 | 24 |
| 25 | 26 | 27 | 28 | 29 | 30 | 31 |
sunday, 3 december
No announcements for selected date