National Assembly of the Republic of Serbia / Activities / Activity details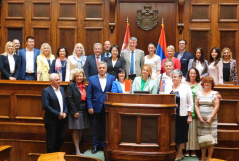 26 June 2019 The members of the PFG with China and Chinese Ambassador to Serbia Chen Bo
Wednesday, 26 June 2019
Working on Closer Ties between Serbian and Chinese People
The Parliamentary Friendship Group with the People's Republic of China headed by Prof. Dr Zarko Obradovic met today with the Ambassador of the People's Republic of China to Serbia H.E. Chen Bo.
---
Welcoming the Ambassador, Obradovic took the opportunity to emphasize that the two countries enjoy a traditional and deep friendship "steel".
Speaking of the excellent parliamentary cooperation, he mentioned the Memorandum of Cooperation, regular meetings of the two parliaments' joint Commission and the fact that the PFG with China is one of the largest in the National Assembly.
"Serbia and China also have a comprehensive strategic partnership, the pace of which is set by presidents Xi Jinping and Aleksandar Vucic, which also colours the inter-state relations", Obradovic stressed.
Speaking of the extensive interparliamentary cooperation, he highlighted the importance of Chinese investments and projects in Serbia.

Obradovic thanked China for its support of Serbia's territorial integrity and sovereignty.
Ambassador Chen Bo said she was very pleased to meet with the members of the PFG with China and discuss how to advance cooperation. She spoke of the traditionally good relationship between China and Serbia, reaching back far into the past, and the intertwining support the two countries offered one another in times of trouble. She highlighted the importance of joint projects, hoping that the cooperation between the two countries would continue to develop through a more active involvement of investors, primarily small and medium-sized Chinese companies, strengthening of cooperation in the field of innovation and agriculture and concerted efforts to bring the two nations even closer.
"There are no barriers and nothing is off limits in our relationship", said the Ambassador. She also spoke about the current relations between the US and China, saying this was one of the biggest challenges China has come up against since the beginning of reform, one that can be solved through dialogue and appreciation of the two countries' interest.
The meeting was attended by members of the PFG with China who spoke about their views of the cooperation between the two countries and suggested ways to advance it.


---
---
friday, 30 september
9.30 - press conference of MP Nebojsa Zelenovic (National Assembly House, 13 Nikola Pasic Square, Central Hall)

12.00 - National Assembly Deputy Speaker Sandra Bozic speaks at the opening of the children's exhibition on the topic: Bridge of Understanding – Intergenerational Solidarity (National Assembly House, 13 Nikola Pasic Square, Central Hall)

13.30 - National Assembly Deputy Speaker Sandra Bozic meets with the First Secretary of the UK Embassy in the Republic of Serbia (National Assembly House, 13 Nikola Pasic Square, hall 3)

14.00 - press conference of MP Radmila Vesic (National Assembly House, 13 Nikola Pasic Square, Central Hall)

14.15 - press conference of MP Dragan Nikolic (National Assembly House, 13 Nikola Pasic Square, Central Hall)