National Assembly of the Republic of Serbia / Activities / Activity details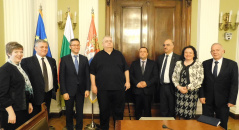 30 March 2018 The members of the European Integration Committee and the delegation of the Bulgarian Parliamentary Committee on European Affairs and Oversight of European Funds
Friday, 30 March 2018
Western Balkans in Focus of EU, Only One Which Can Offer Region Prospects
"Bulgaria drew the Western Balkan region into the focus of the EU as the only one which can offer it a prospect as it provides systemic answers to systemic problems", said Kristian Vigenin, Chairman of the Bulgarian Parliamentary Committee on European Affairs and Oversight of European Funds, in today's meeting with the members of the National Assembly's European Integration Committee.
---
He added that it had not been easy to activate EU's enlargement policy in view of all the scepticism in the EU itself, but Bulgaria found the arguments to convince the EU member states, along with fact that the EU is overcoming its crisis, that the region should be given the attention it deserves. Vigenin said that the second element of Bulgaria's engagement on the EU enlargement policy is to offer both financial and administrative support on the European path.

"Bulgaria is doing all this to support Serbia on its path to EU accession and is doing all in its power to explain to the other member states why it is not easy for the countries in the region to resolve their problems, so as to gain their understanding which gives far better results than any pressure", Vigenin concluded.

Speaking of Kosovo-Metohija, he said that it is very difficult for the EU member states to fully comprehend the complexity of the issue and that is why support for the whole region can facilitate the resolution of the problems in it.

European Integration Committee member Gordana Comic briefed the Bulgarian parliamentarians on the course of Serbia's EU talks, a process launched in 2015 that has so far resulted in the opening of 12 of the 25 negotiation chapters, and added that Serbia expects at least five more of the prepared chapters to be opened soon.

"Chapters 23 and 24 will be the most work, especially in the part where laws need to be passed and implemented. And what is specific for our talks is Chapter 35, which sums up the Brussels Agreement, meaning the normalization of relations between Belgrade and Pristina. In the case of Serbia, the negotiations with the EU are actually negotiations on the development of the society and establishment of the rule of law and freedoms, and Serbia has irrevocably chosen to pursue EU accession", said Comic.

European Integration Committee Chairman Nenad Canak reaffirmed that Serbia is resolutely following the path to the EU and deemed it good that Serbia and Bulgaria have a mutual understanding.

"The situation in Serbia is complex but I am sure that cooperation with good-willed people such as yourselves will defuse the so-called Balkan powder keg", said European Integration Committee Chairman Nenad Canak.

The meeting was attended by MPs Elvira Kovacs, Zvonimir Djokic and Aleksandar Cotric, and on the behalf of the Bulgarian delegation Ivelina Vasileva and Petar Petrov, deputy chairpersons of the Committee on European Affairs and Oversight of European Funds, and Committee chairman Ivan Ivanov.


---
---
friday, 3 december
10.30 - sitting of the European Integration Committee (National Assembly House, 13 Nikola Pasic Square, hall 3)

11.00 - sitting of the Committee on the Economy, Regional Development, Trade, Tourism and Energy (National Assembly House, 13 Nikola Pasic Square, hall 2)

11.00 - public hearing on: "Implementation of the United Nations Climate Change Conference - COP 26 Agreement in Serbia" (National Assembly House, 13 Nikola Pasic Square, Small Hall)

11.00 - the National Assembly Speaker addresses the public hearing on: "Implementation of the United Nations Climate Change Conference - COP26 Agreement in Serbia" (National Assembly House, 13 Nikola Pasic Square, Small Hall)