National Assembly of the Republic of Serbia / Activities / Activity details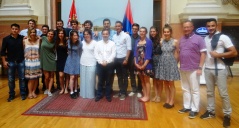 20 July 2016 UK and US students visit the National Assembly
Wednesday, 20 July 2016
UK and US University Students Visit National Assembly
A group of university students from the UK and US visited the National Assembly today to learn about its work, history of parliamentarism in Serbia and the cultural and historical significance of the edifice of the National Assembly House.
---
On the behalf of the National Assembly the students were received by National Assembly Deputy Speaker Prof. Dr Vladimir Marinkovic who spoke to them about the constitution of the National Assembly after the April elections and the imminent formation of the new Government of the Republic of Serbia which is to continue the ongoing processes of reform, European integration and reconciliation in the region.

"It is always a pleasure to be able to talk to students visiting the National Assembly be they from Serbia, the region or further abroad. Our primary goal is to improve the lives of our citizens which is why we will dedicate ourselves to reform in the fields of economy, agriculture, construction and infrastructure. Aware that the stability of our country and the whole Western Balkans is key to prosperity, we will continue to pursue the policy of cooperation and reconciliation in the region, as well as develop cooperation with the EU member states and friendly countries such as the US, Russia and China", said Marinkovic.

The National Assembly Deputy Speaker also spoke about the National Assembly's cooperation with the UK and Scottish parliaments as well as the US Congress, evidenced by the decades-long existence of the Serbian Caucus in it. The students, visiting Serbia as part of the summer school programme organised by PEUS (Protestant-Evangelical Alliance of Serbia), were mostly interested in the electoral system in Serbia and the challenges the country faces on the path to Europe.


---
---
| M | T | W | T | F | S | S |
| --- | --- | --- | --- | --- | --- | --- |
| 27 | 28 | 29 | 30 | 31 | 1 | 2 |
| 3 | 4 | 5 | 6 | 7 | 8 | 9 |
| 10 | 11 | 12 | 13 | 14 | 15 | 16 |
| 17 | 18 | 19 | 20 | 21 | 22 | 23 |
| 24 | 25 | 26 | 27 | 28 | 29 | 30 |
| 31 | 1 | 2 | 3 | 4 | 5 | 6 |
thursday, 13 august
No announcements for selected date