National Assembly of the Republic of Serbia / Activities / Activity details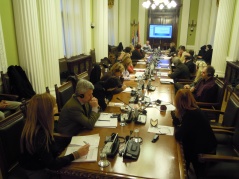 Thursday, 1 December 2011
Two-Day Seminar Held on Public Hearings and Guidelines for Conducting Public Hearings
The National Assembly of the Republic of Serbia organised a two-day seminar for the National Assembly Service employees, at the National Assembly House, on 30 November and 1 December, with the topic Public hearings and guidelines for conducting public hearings.
---
In the course of the two-day seminar, the lecturers, officers of the British Parliament's lower house Alistair Doherty and Paul Silk educated the participants on the Westminster practice of organising public hearings stressing that public hearings should be a stage that would improve the quality of the committees' work.
The British Parliament's lower house has two types of committees, ones dealing with legislation which are formed ad hoc for each law and last the duration needed to review a bill, while the oversight committees have a five-year mandate and are responsible for the work of the ministries and control certain topics by frequently organising public hearings. The lecturers stated that all the participants invited to public hearings at the British Parliament are obliged to attend and that both the choice of the topic and its detailed deliberation are considered extremely important for the quality of the work in the course and after the completion of the public hearing. They also suggested that the employees in charge of organising public hearings should attend professional training and that, after a public hearing from his/her scope, each committee chairperson should convene a committee sitting to submit a report containing the conclusions made at the public hearing.
All the participants agreed that by organising public hearings the employees have the opportunity to take part and provide professional support in conducting these events of great importance for the work of the parliamentary committees.
In the course of the seminar the participants were involved in an interactive identification of disadvantages of public hearings, committee member briefings and drafting of guidelines for public hearings.
After the completion of each session, they were divided into groups to discuss the disadvantages in the organisation of public hearings and possible ways to overcome them and they prepared tasks, materials and information based on the principles discussed at the previous session.
The seminar for the National Assembly Support Service employees was realised in cooperation with Westminster Foundation for Democracy and the non-governmental organisation CRTA.
---
---
monday, 17 january
9.00 - the members of the PFG with Russia meet with Russian senators (National Assembly House, 13 Nikola Pasic Square, hall 2)