National Assembly of the Republic of Serbia / Activities / Activity details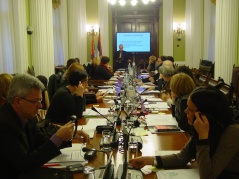 Tuesday, 29 November 2011
Two-Day Seminar Held in Cooperation with Westminster Foundation for Democracy on Strengthening National Assembly's Legislative and Control Capacities
The National Assembly House hosted a two-day seminar, on 28 and 29 November, on the key skills necessary for working at the National Assembly Service, where the Service employees learned about the work of the British Parliament's lower house and exchanged experiences with their British colleagues.
---
After the programme was presented on the first day, 28 November, the assembly discussed common points and differences in the work of the two parliaments with a focus on the legal framework behind the parliaments' functions and the role of the employees in the process.
In the continuation of the seminar, the officers of the British Parliament's lower house Alistair Doherty and Paul Silk presented the characteristics of the Westminster system focusing on the parliament's control role. Afterwards, they discussed the nature of the National Assembly Service, relationship between the MPs and employees, relationship between the National Assembly and the Government, as well as the British Parliament's oversight committees.
The National Assembly's committees perform both legislative and control functions, while in the British Parliament the legislative and oversight committees are separated. The participants of the seminar presented the work of the committees of the National Assembly of the Republic of Serbia to the guests, focusing on the existence of control instruments established by the Law on the National Assembly and Rules of Procedure. They also stressed that the committees perform their control function by reviewing the Government's reports, quarterly information on the ministries' work and reports of independent state authorities and bodies, highlighting the possibility to hold working body sittings outside of the National Assembly headquarters which brings the parliament's work closer to the civil sector to a great extent.
On the second day of work, 29 November, the lecturers presented the work programme of the British Parliament's oversight committees and the process of collating the briefings that the support service prepares for the members of parliament.
The British Parliament's lower house has a committee to follow the work of each ministry, and the lower house oversight committees debate policy proposals sent by the Government andEuropean Commission, expenditure and ministry documentation, follow the work of the agencies, analyse the draft versions of bills and prepare reports to be discussed at the lower house.
The employees of the National Assembly's Service wanted to know about the structure, purpose and strength of documentation prepared in such a manner, as well as the importance of presenting the committees' work to the public. They discussed media strategies in that context, and shared experiences on working with the media and the two parliaments' transparency.
---
---
wednesday, 27 september
9.15 - the National Assembly Speaker meets with a delegation of the House of Representatives of the Republic of Cyprus (National Assembly House, 13 Nikola Pasic Square, hall 1)

9.45 - the members of the Foreign Affairs Committee meet with the delegation of the House of Representatives of the Republic of Cyprus (National Assembly House, 13 Nikola Pasic Square, hall 2)

10.45 - the members of the European Integration Committee meet with the delegation of the House of Representatives of the Republic of Cyprus (National Assembly House, 13 Nikola Pasic Square, hall 2)

11.45 - the members of the PFG with Cyprus meet with the delegation of the House of Representatives of the Republic of Cyprus (National Assembly House, 13 Nikola Pasic Square, hall 2)