National Assembly of the Republic of Serbia / Activities / Activity details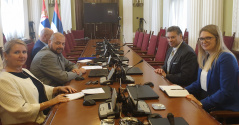 15 August 2019 The Head of the PFG with the US Dragan Sormaz and US Embassy Deputy Chief of Mission Gabriel Escobar
Thursday, 15 August 2019
Sormaz Talks to US Embassy Deputy Chief of Mission about Deepening Cooperation
Dragan Sormaz, Head of the PFG with the US, met today with the US Embassy Deputy Chief of Mission Gabriel Escobar to discuss strengthening cooperation, potential US investments and the political scene in the region.
---
First off, Sormaz informed Escobar that the National Assembly's PFG with the US boasts 76 members which is a clear indicator of Serbia's readiness to intensify its cooperation with the US. He also spoke about his activities as member of the European Union-Serbia Stabilisation and Association Parliamentary Committee and the head of the delegation to the NATO Parliamentary Assembly.
Escobar said that the US is ready to cooperate with Serbia which it recognizes as the leader in the region and supports the country's Euro-Atlantic path. He said that Serbia belongs in the European Union and reaffirmed his country's support for the Belgrade-Pristina dialogue, adding that the two sides need to reach a compromise despite the political challenges. He also spoke about advancing cooperation in the spheres of education and trade, saying that he considers Serbia a reliable partner for American investors. Escobar said that US investors like to see predictability in a given market which is a measure of its security, and Serbia possesses all the necessary requirements.
Sormaz said that Serbia belongs to the European community reminding the guest of the many alliances Serbia and the US shared throughout history. Serbia is full of educated people, ranking fourth in Europe and 10th in the world by the number of digital employees, and is more than open to new job-creating investments. He also said that the US public image in Serbia needs to be improved because the people are not aware of the fact that Serbia enjoys good cooperation with the US which could be further deepened and strengthened.


---
---
monday, 16 may
No announcements for selected date