National Assembly of the Republic of Serbia / Activities / Activity details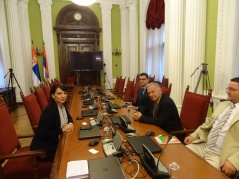 20 October 2016 The European Integration Committee Chairperson and the Bulgarian Ambassador to Serbia
Thursday, 20 October 2016
Social Reform Should be Conducted for Sake of Serbian Citizens, Not Only for Brussels
The Chairperson of the European Integration Committee Marinika Tepic and the Bulgarian Ambassador to Serbia Radko Vlaykov agreed that social reform should be conducted for the sake of securing a better living for the citizens of Serbia, not only for the sake of EU membership.
---
Chairperson Tepic and Ambassador Vlaykov discussed Serbia's European integration process and Bulgaria's support of Serbia on its European path.


Ambassador Vlaykov said that the EU would extend to include the Western Balkans, but it is up to the region when this will happen, adding that regional cooperation is an important factor in the process.

"Bulgaria will support Serbia's European integration, especially during the period it will preside over the EU Council in 2018, and we have already offered Serbia our experts' technical support in the negotiating process", stressed Ambassador Vlaykov.

The officials agreed how important it is that Serbia has the EU member states' political guarantees that it is welcome in the European community, stressing that the date for Serbia's EU accession would be determined by the dynamics of the reforms.

Committee Chairperson Marinika Tepic said that Bulgaria's term of presidency of the EU Council is very important for Serbia, hoping that by 2018 it will have opened all the negotiating chapters and that Bulgaria, as a neighbouring country, would help it do so.

"I believe that, enlargement date notwithstanding, we are entering into reforms for our own sake. Though we support the Government on the path to Europe, we as parliamentarians have the control role as regards the implementation of what is contained in the negotiating chapters", said Tepic.

She briefed the Bulgarian Ambassador on the European Integration Committee's mode of operation and its role in the negotiations process, as well as its cooperation with the National Convention on the EU.

She advocated intensifying cooperation with the relevant committee in the Bulgarian parliament, also adding that she was pleased that the problem with textbooks for the Bulgarian national minority in Serbia has been solved.


---
---
thursday, 1 december
9.45 - press conference of MP Usame Zukorlic (National Assembly House, 13 Nikola Pasic Square, Central Hall)

10.30 - the National Assembly Speaker meets with a delegation of the Turkish Grand National Assembly Committee on Foreign Affairs (National Assembly House, 13 Nikola Pasic Square, hall 1)

10.30 - press conference of the GREEN – LEFT CLUB, DON'T LET BELGRADE D(R)OWN, WE HAVE TO Parliamentary Group (National Assembly House, 13 Nikola Pasic Square, Central Hall)

11.10 - the members of the Foreign Affairs Committee meet with the delegation of the Turkish Grand National Assembly Committee on Foreign Affairs (National Assembly House, 13 Nikola Pasic Square, hall 2)

12.00 - sitting of the Culture and Information Committee (National Assembly House, 13 Nikola Pasic Square, hall 4)

12.00 - press conference of MPs Slavica Radovanovic, Sanda Raskovic Ivic, Tatjana Manojlovic, Radmila Vasic and Jelena Kalajdzic (National Assembly House, 13 Nikola Pasic Square, Central Hall)

13.00 - sitting of the Committee on Administrative, Budgetary, Mandate and Immunity Issues (National Assembly House, 13 Nikola Pasic Square, hall 3)

13.00 - the National Assembly Speaker meets with the Swedish Ambassador to Serbia (National Assembly House, 13 Nikola Pasic Square, hall 1)

14.00 - sitting of the Defence and Internal Affairs Committee (National Assembly House, 13 Nikola Pasic Square, hall 3)

18.30 - representatives of opposition parliamentary groups meet with the EU Commissioner for Neighbourhood and Enlargement (National Assembly House, 13 Nikola Pasic Square, hall 2)