National Assembly of the Republic of Serbia / Activities / Activity details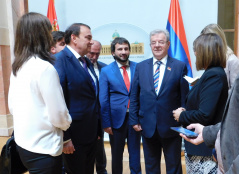 20 May 2019 Sochi delegation visits the National Assembly
Monday, 20 May 2019
Sochi Delegation Visits National Assembly
National Assembly Deputy Speaker Prof. Dr Vladimir Marinkovic and MP Dragomir Karic met today with a delegation of the Russian city of Sochi, headed by Mayor Anatoly Nikolayevich Pakhomov.
---
Prof. Dr Vladimir Marinkovic welcomed the Sochi delegation saying that the strong ties between Russia and Serbia can help promote the economic cooperation between Belgrade and Sochi. The Deputy Speaker said that Serbia is working on improving its economy-related legislation and creating a favourable business environment for foreign investment. He added that the two cities, Belgrade and Sochi, could become even closer and more accessible for their respective citizens by the introduction of a direct flight which would aid tourism.
Thanking his hosts for the warm welcome, Pakhomov said that the visit of the delegation comprised of representatives of successful Sochi businesses was motivated by the invitation of MP Dragomir Karic. He said that the city of Sochi had changed a lot and developed touristically after the 2014 Winter Olympics and has been given a new infrastructural dimension. In addition to its impressive infrastructure, Sochi also offers spa programmes, varied cultural content and is hard at work on environmental issues.
MP Dragomir Karic said he was sure tourism would bring the two cities closer, hoping that the trade between Serbia and Russia would in the next few years improve and reach the levels it had in the times of the former SFRY.
The Sochi delegation and Mayor Anatoly Nikolayevich Pakhomov were also greeted by the Speaker of the National Assembly of the Republic of Serbia Maja Gojkovic.


---
Photo gallery
---
---
monday, 28 september
No announcements for selected date