National Assembly of the Republic of Serbia / Activities / Activity details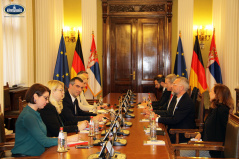 21 March 2023 The National Assembly Speaker in meeting with the Chairman of the Committee on Foreign Affairs of the German Bundestag
Tuesday, 21 March 2023
Serbian Assembly Speaker Dr Orlic Meets with Bundestag Foreign Affairs Committee Chairman
The Speaker of the National Assembly of the Republic of Serbia Dr Vladimir Orlic, met today with the Chairman of the Committee on Foreign Affairs of the German Bundestag Michael Roth.
---
In the course of the meeting, the officials affirmed the two countries' good bilateral relations, as well as the high level of political dialogue achieved in the previous period, expressing mutual determination to continue and intensify it. Dr Orlic took the opportunity to thank Germany for its support of Serbia's European integration, emphasising that significant progress has been achieved and confirmed within the framework of the country's reform process across the board. The Speaker stressed that Serbia is committed to dialogue and the preservation of peace and stability in the region, emphasised the need to set up the Community of Serb Municipalities in accordance with previous agreements in the Belgrade-Pristina dialogue.
"That is the most important thing at this moment, as well as ensuring respect for the rights of Serbs in Kosovo-Metohija and safety for their lives, threatened on a daily basis by the dangerous and irresponsible moved of A. Kurti," stressed Dr Orlic.
The Chairman of the Committee on Foreign Affairs of the German Bundestag Michael Roth thanked his host for the opportunity to talk, saying that he sincerely appreciated our country's the respect for Germany, which is also reflected in the countries' good economic cooperation. He said that modern administration, combating corruption and an independent judiciary are important aspects of the further development of economic relations and continued investment into Serbia, primarily through the work of small and medium-sized enterprises.
Roth praised Serbia's efforts on the path to full membership in the Union of European countries, emphasising the importance of continuing to fulfil obligations and harmonisation with European legislation and highlighting the importance of aligning with the EU foreign and security policy.
He emphasised the importance of parliamentary debate for strengthening democratic processes, as they represent an opportunity for all political options to present their views and programmes to citizens.
The officials confirmed their readiness to intensify parliamentary cooperation, both through the engagement and continued mutual communication of parliamentary friendship groups, as well as through the activities of committees and other working bodies in the parliaments of Serbia and Germany. Speaking about economic cooperation, Dr Orlic said that Germany is one of Serbia's most important economic partners and one of the biggest investors in the Serbian economy. "German companies in Serbia currently employ around 80,000 workers and we expect that number to reach 100,000. We want to maintain the continuity of economic cooperation and improve it further in the future," concluded the National Assembly Speaker. "Majority of our citizens voted for the development policy of Serbia, both in in presidential and parliamentary elections. That is the democratically expressed clear will of the people in Serbia".
---
Photo gallery
---
---