National Assembly of the Republic of Serbia / Activities / Activity details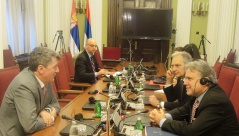 5 December The members of the foreign affairs and European integration committees in meeting with the Greek Assistant Minister of Foreign Affairs and Alternate Minister for European Affairs
Monday, 5 December 2016
Serbia and Greece to Be Pillars of Stability in Region
Serbia and Greece should be the pillars of stability in the region and the example of what a successful cooperation between two countries in the Balkans should look like was the message of today's meeting between the Greek Assistant Minister of Foreign Affairs and Alternate Minister for European Affairs Georgios Katrougalos and the members of the Nation al Assembly's foreign affairs and European integration committees.
---
"Greece supported Serbia in the most difficult moments of its history, which we are very proud of, because we fought for justice together. Greece strongly supports Serbia's European integration, especially the opening of negotiation chapters, which it contributed to in the EU", said Katrougalos.

He stated that Serbia and Greece can make the Balkans a region of cooperation, reaffirming his country's support as regards the status of Kosovo-Metohija. Katrougalos said that, just like Serbia, Greece too is emerging from an economic crisis and is interested in furthering economic cooperation with Serbia and boosting investment.

The Chairman of the Foreign Affairs Committees Prof. Dr Zarko Obradovic reminded everybody that the diplomatic relations between Serbia and Greece have been going strong for 148 years now and that the national parliaments should initiate a celebration of the jubilee as an example of successful cooperation between two Balkan countries with no outstanding issues. Obradovic thanked the people of Greece, on the behalf of the MPs, for the support as regards the status of Kosovo-Metohija.

Deputy Chairperson of the European Integration Committee Elvira Kovacs highlighted the importance the EU accession process has for Serbia. She said that the opening of new negotiation chapters before the end of the year could lend impulse to the integration process and assure the people that Europe, despite the challenges it is faced with, considers the enlargement process important. She briefed the Greek Minister on the activities of the European Integration Committee, its role in the negotiation process and cooperation with the National Convention on the EU.

The officials agreed that the institutional cooperation between the two countries should be strengthened and endorsed the idea to organise trilateral and multilateral meetings of Serbia, Greece, Romania and Bulgaria.

The meeting, attended by the members of the Nation al Assembly's foreign affairs and European integration committees Dusica Stojkovic, Gordana Comic, Prof. Dr Ljubisa Stojmirovic, Marko Blagojevic, Jelena Vujic Obradovic and Jovan Jovanovic, also touched on how to address the migrant crisis, the Serbian citizens' support of the pro-European policy, significance of stability in the region as the key factor in the European integration process and cooperation between the Serbian and Greek delegation to the South East Europe Cooperation Process Parliamentary Assembly.


---
---
thursday, 8 december
8.30 - the National Assembly Speaker meets with the Chairperson of the Standing Committee of the Council of the Republic of Belarus for Economy, Budget and Finances and the Ambassador of Belarus in Serbia (National Assembly House, 13 Nikola Pasic Square, hall 1)

10.00 - continuation of the Third Sitting of the Second Regular Session of the National Assembly of the Republic of Serbia in 2022 (National Assembly House, 13 Nikola Pasic Square)

11.00 - press conference of the HOPE – NEW DSS – POKS Parliamentary Group (National Assembly House, 13 Nikola Pasic Square, Central Hall)

12.00 - sitting of the Subcommittee on Sports (National Assembly House, 13 Nikola Pasic Square, hall 3)

15.00 - sitting of the European Integration Committee (National Assembly House, 13 Nikola Pasic Square, hall 2)