National Assembly of the Republic of Serbia / Activities / Activity details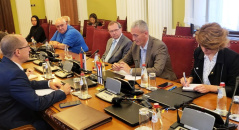 7 June 2023 The participants of the meeting
Wednesday, 7 June 2023
Serbia and Cuba Will Always Cultivate Brotherly and Friendly Relations
The Head and members of the Parliamentary Friendship Group with Cuba met with the Cuban Ambassador to Serbia, H.E. Leyde Ernesto Rodriguez Hernandez, who informed them about the current political and economic situation in Cuba.
---
The Ambassador emphasised that the economic situation in Cuba is more complex than ever. He reminded the attending that the sixty-years of sanctions have damaged the Cuban people by more than one trillion dollars and that the difficulties caused by certain measures that are still in force have an additional bad effect on the country's economy. And the Covid-19 pandemic was followed by a new economic blow.
Ambassador Hernandez underlined that on this difficult path, Serbia has always been a brother and friendly support, for 120 years now.
"From a historical perspective, our two countries have faced many a complex situation, but even then they have always supported each other and defended their sovereignty, integrity and culture, which only brought them even closer. That is why Cuba will always support the position that Kosovo-Metohija is part of Serbia and will never recognise its secession," said Ambassador Hernandez.
The Ambassador stressed that the bilateral relations between the two countries are at an excellent level, but the desire to strengthen them further is always present, as confirmed by the announced visit of the President of Cuba to Serbia. He said that there is significant strength in the parliaments that should be used to improve cooperation at all levels, informing the hosts present that a Friendship Group with Serbia has been formed in the Cuban parliament and hoped for a successful and intensive future cooperation between the two parliaments' friendship groups.
Bojan Torbica, Head of the PFG with Cuba, pointed out that Cuba will always have a sincere friend in Serbia and strong support on the way to overcome the difficult challenges it is faced with. He said that our country will continue to advocate for the complete lifting of sanctions against Cuba, as well as for its being removed from the blacklist of countries that support terrorism. He also pointed out that Serbia will be eternally grateful for the strong support in the diplomatic struggle to make sure Kosovo-Metohija is not separated from its territory.
PFG members Dragana Lukic, Jana Mateovic, Ugljesa Grgur, Dragan Milinkovic, Radmila Vasic, Zoltan Dani, Djordje Komlenski, Momcilo Vuksanovic and Stasa Stojanovic shared their observations and suggestions with the Ambassador, for improving educational and health cooperation, also highlighting the importance of introducing a direct flight between the two countries to improve tourism and expressing gratitude for the non-recognition of the fake state of Kosovo and the wish that sanctions against Cuba would finally be lifted. The PFG members also invited the Ambassador to visit the cities they come from and learn more about the cultural heritage of Serbia.
---
---
monday, 2 october
10.40 - the National Assembly Speaker's address at the event "Joy of Europe" (National Assembly House, 13 Nikola Pasic Square, Central Hall)

12.00 - continuation of the sitting of the Committee on the Economy, Regional Development, Trade, Tourism and Energy (National Assembly House, 13 Nikola Pasic Square, hall 2)

14.15 - the National Assembly Speaker meets with a delegation of rapporteurs of the Parliamentary Assembly of the Council of Europe Monitoring Committee (National Assembly House, 13 Nikola Pasic Square, hall 1)

16.00 - the heads of the parliamentary groups meet with the delegation of rapporteurs of the Parliamentary Assembly of the Council of Europe Monitoring Committee (National Assembly Building, 14 Kralja Milana Street, Blue Salon)

17.45 - the members of the Committee on Constitutional and Legislative Issues meet with the delegation of rapporteurs of the Parliamentary Assembly of the Council of Europe Monitoring Committee (National Assembly Building, 14 Kralja Milana Street, Blue Salon)