National Assembly of the Republic of Serbia / Activities / Activity details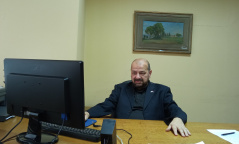 12 November 2020 MP Dragan Sormaz at the Rose-Roth webinar entitled "Euro-Atlantic Integration in the Western Balkans: What Next?"
Thursday, 12 November 2020
Serbia Remains Committed to European Path, Belgrade-Pristina Dialogue, with Mini-Schengen to Speed Up Resolution of Open Issues and Advance Cooperation in Region
"Serbia remains committed to its path to EU membership, as well as the Belgrade-Pristina dialogue under its auspices, and it is my deep belief that the establishment of the so-called mini-Schengen, at the proposal of the Serbian President, will speed up the resolution of open issues and advance cooperation in region", said MP Dragan Sormaz at the Rose-Roth webinar entitled "Euro-Atlantic Integration in the Western Balkans: What Next?".
---
The webinar, attended by numerous delegations to the NATO PA, was opened by the President of the NATO Parliamentary Assembly Attila Mesterhazy, with keynote speeches by the European Union Commissioner for Neighbourhood and Enlargement Olivér Várhelyi, NATO Deputy Assistant Secretary-General for Political Affairs and Security Policy James Appathurai and the Head of the Swiss Mission to NATO Philippe Brandt.

In his address, MP Sormaz first talked about the Agreement on normalization of economic relations between Belgrade and Pristina, signed in Washington, which should create better opportunities and preserve peace in the region, and for the implementation of which the United States has taken responsibility. He added that the Agreement is in the interest of both Serbs and Albanians, and that it is important, not only for economic development, but also for creating the prerequisites for the continuation of the political dialogue between the two sides.

Speaking about the mini-Schengen, that is, the initiative of the President of Serbia to establish a common regional market, Sormaz pointed out that it will enable free movement of goods, people, services and capital, as well as facilitate movement and interconnection in the region. Also, with the Washington Agreement, Pristina undertook to join this regional initiative, which will additionally oblige it to respect the single market, which has not been the case so far, reminding the attending of the introduction of a 100% tariff on imports from Serbia and Bosnia and Herzegovina.

Sormaz reminded his colleagues in the NATO PA that Serbia remains committed to EU accession and cooperation with NATO. He pointed out that Serbia has opened 18 negotiating chapters so far, unfortunately, none have been opened this year, and welcomed Commissioner Várhelyi's announcement that Chapter 8 could be opened in the coming period.

"Serbia is committed to the reform process and it is important that there have been no setbacks in any area. In the European Commission's latest report of the, we will find clear recommendations for key reforms in order to speed up the EU accession process, as well as make the country economically competitive and environmentally sustainable," Sormaz said.

This Rose-Roth webinar, organized by the NATO PA, is dedicated to the latest political developments, current security challenges and opportunities, aspirations for EU and/or NATO membership and cooperation between the European Union and NATO in the Western Balkans.


---
---
monday, 15 august
11.00 - press conference of MP MA Ivan Kostic (National Assembly House, 13 Nikola Pasic Square, Central Hall)