National Assembly of the Republic of Serbia / Activities / Activity details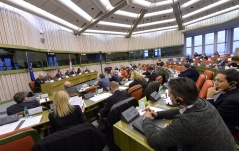 26 November 2014 The second meeting of the European Union-Serbia Stabilisation and Association Parliamentary Committee (Photo © European Union)
Friday, 28 November 2014
Second Meeting of European Union-Serbia Stabilisation and Association Parliamentary Committee
The European Union-Serbia Stabilisation and Association Parliamentary Committee met for the second time in Strasbourg, 26-27 November 2014. The meeting was co-chaired by Eduard Kukan, who headed the EP delegation, and Vladimir Orlic, who headed the delegation of the National Assembly of the Republic of Serbia.
---
At the two-day meeting at the European Parliament, the National Assembly MPs and the MEPs discussed the course of pre-accession talks and the relations between the European Union and Serbia with a special focus on the completed analytical reviews of the legislation, key conclusions and recommendations as regards the implementation of the Stabilisation and Association Agreement, as well as the open issues and key conclusions of the body monitoring the implementation of the SAA. The members of the joint parliamentary committee also discussed the European Union's Common Foreign and Security Policy and Serbia's place in it, Serbia's role in the strengthening of regional cooperation, economic reform, situation as regards the improvement of fundamental rights and liberties, as well as the progress in the fight against corruption and organised crime and judiciary reform.
Serbia's progress on the road to legislative harmonisation, current course of the negotiations and analytical review of legislation were noted on several occasions. It was concluded that the relationship between Serbia and the EU is one of partnership aimed at finding common solutions to all the open issues and maintaining constant consultation throughout the accession process. The members of the two delegations agreed that Serbia has made considerable progress in the implementation of the Stabilisation and Association Agreement and are sure that the gradual rapprochement of policies and dialogue will in future contribute to the complete harmonisation of EU and Serbian policies.
In the concluding press conference, co-chairs Kukan and Orlic agreed that the meeting was conducted in a friendly atmosphere of constructive debate that resulted in excellent conclusions. They highlighted the importance of the joint committee's Declaration and Recommendations, outlining Serbia's achievements and the standards necessary for the European integration process. They also highlighted the two partners' commitment to send a clear message of full agreement as regards Serbia's strategic move toward full membership in the European Union to the Stabilisation and Association Council and the institutions of Serbia and the European Union.
The co-chairs of the joint parliamentary committee concluded that establishing a fundamental value system based on principles highly respected by both sides is the primary common goal.
Click
here
to view the joint Declaration and Recommendations.
---
---
saturday, 13 august
No announcements for selected date