National Assembly of the Republic of Serbia / Activities / Activity details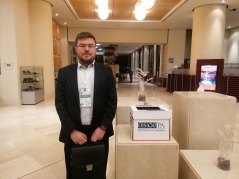 25 April 2021 Predrag Rajic, member National Assembly delegation to the OSCE Parliamentary Assembly
Monday, 26 April 2021
Predrag Rajic Takes Part in OSCE PA Election Observation Mission in Albania
Predrag Rajic, member National Assembly delegation to the OSCE Parliamentary Assembly, took part in the OSCE PA observation mission of the parliamentary elections held in Albania on 25 April 2021.
---
Predrag Rajic visited 17 polling stations located in the Tirana inner city area, as well as District 7. In the course of the tour, Predrag Rajic met with the members of the polling stations and the observers delegated by the political parties which participated in the parliamentary elections, as well as with civil society representatives who participated in the election observation.
Predrag Rajic also visited District 10 in the central part of Tirana, where a pilot project was conducted for the first time - exclusively electronic voting at 15 polling stations.
Predrag Rajic informed Serbian national media houses that monitored the elections about the election process as it developed.
---
---
tuesday, 5 july
No announcements for selected date