National Assembly of the Republic of Serbia / Activities / Activity details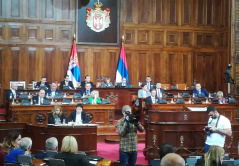 28 November 2019 Parliamentary Questions in November
Thursday, 28 November 2019
Parliamentary Questions in November
On 28 November 2019, in line with article 205, paragraph 1, of the National Assembly Rules of Procedure, the MPs posed questions to the Government of the Republic of Serbia, between 4 and 7 pm.
---
MPs Dr Muamer Zukorlic, Djordje Komlenski, Elvira Kovacs, Djordje Vukadinovic, Dragan Markovic, and Vladimir Djuric had questions for the members of the Government of the Republic of Serbia.

Government representatives Prime Minister Ana Brnabic, Deputy Prime Minister and Minister of the Interior Nebojsa Stefanovic, Minister of Labour, Employment, Veteran and Social Affairs Zoran Djordjevic, Minister of Environmental Protection Goran Trivan, Minister of Education, Science and Technological Development Mladen Sarcevic, Minister of Mining and Energy Aleksandar Antic, Minister of Culture and the Media Vladan Vukosavljevic, Minister of Health Zlatibor Loncar, Minister for European Integration Jadranka Joksimovic, Minister of Defence Aleksandar Vulin and minister without portfolio responsible for demography and population policy Slavica Djukic Dejanovic responded to the MPs' questions.


---
---
tuesday, 30 november
11.30 - 51st meeting of the National Assembly Collegium (National Assembly House, 13 Nikola Pasic Square, hall 1)

13.00 - sitting of the Culture and Information Committee (National Assembly House, 13 Nikola Pasic Square, hall 3)

13.00 - Eighth Special Sitting of the National Assembly of the Republic of Serbia, 12th Legislature (National Assembly House, 13 Nikola Pasic Square)

13.30 - the National Assembly Speaker addresses Hanukkah celebration (National Assembly House, 13 Nikola Pasic Square, Small Hall)

13.30 - Hanukkah celebration (National Assembly House, 13 Nikola Pasic Square, Small Hall)