National Assembly of the Republic of Serbia / Activities / Activity details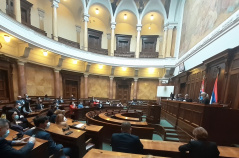 17 March 2021 The Head and members of the PFG with the US and the US Ambassador to Serbia
Wednesday, 17 March 2021
PFG with US and US Ambassador Godfrey Discuss Improving Cooperation between the Two Countries
The Head and members of the Parliamentary Friendship Group with the US and US Ambassador to Serbia Anthony Godfrey discussed the relations between the Republic of Serbia and the US and the possibility of their intensification.
---
The US Ambassador stressed that he considered it a great honour to have had the opportunity to talk with the National Assembly Speaker and now with the MPs. He said that Washington is ready to continue strengthening the relations between Serbia and the US and thanked the Government of the Republic of Serbia for the offer of vaccines for the members of the diplomatic corps in Serbia.
"The US interest in Serbia's progress is still present and we are ready to help with the reforms to ensure legislative harmonisation with European standards," Godfrey said, stressing that the US wants to see Serbia succeed.
The members of the Parliamentary Friendship Group and the US Ambassador then discussed the course of negotiations between Belgrade and Pristina, the course of vaccination in the US, recent US elections, the work of the DFC in Belgrade and prospects for further advancement of cooperation between the two countries, with a special focus on culture.
The meeting was followed by a press conference where the Head of the PFG with the US Dragan Sormaz pointed out that, in today's meeting, many important topics were raised and that it was only the beginning of the PFG's work on intensifying cooperation with the US, with the hope that this type of cooperation, in the interest of both peoples, would be improved at the level of the American Congress and the Republic of Serbia as well.
---
---
friday, 19 august
11.00 - press conference of MPs Prf Dr Tamara Milenkovic Kerkovic and Radmila Vasic (National Assembly House, 13 Nikola Pasic Square, Central Hall)