National Assembly of the Republic of Serbia / Activities / Activity details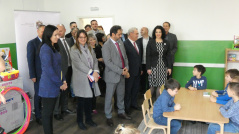 19 November 2019 MP Zaric Kovacevic and UAE Ambassador to Serbia H.E. Mubarak Saeed Al Dhaheri visit "Milan Rakic" elementary in Popovac, Nis City Municipality of Red Cross
Thursday, 21 November 2019
PFG with UAE and UAE Embassy Continue Successful Realization of Humanitarian Projects
At the initiative of the National Assembly's Parliamentary Friendship Group with the United Arab Emirates headed by Jelena Zaric Kovacevic, the UAE Embassy donated half a million dinars to equip the preschool classroom of "Milan Rakic" elementary in Popovac, Nis City Municipality of Red Cross.
---
On the completion of the works, the 27-member preschool group was visited by the Head of the Parliamentary Friendship Group Jelena Zaric Kovacevic, UAE Ambassador to Serbia H.E. Mubarak Saeed Al Dhaheri, Head of the Nisava Administrative District Dragana Sotirovski and the President of the City Municipality of Red Cross Miroslav Milutinovic.
The small preschool classroom situated in the old part of the school was furnished with old desks and chairs, despite being used by a large number of children every year. For a great many years none of the toys and games had been renewed and the teaching material was mostly old and unsuitable. The work done included refurbishment and equipping the classroom with new teaching aids and technical equipment to ensure a better quality of work with the children to help their psychological and social development.
This is the third donation of the UAE Embassy to the Nisava Administrative District at the initiative of the National Assembly's Parliamentary Friendship Group. In 2017, "Nadezda Petrovic" elementary in the village of Ostrovica was renovated and work on the renovation of the school in Gornja Studena is soon to start. The complete refurbishment will provide the schoolchildren with a better and healthier studying environment.


---
---
thursday, 18 august
No announcements for selected date