National Assembly of the Republic of Serbia / Activities / Activity details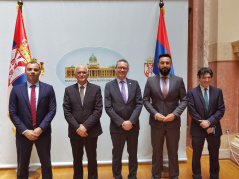 26 May 2021 The members of the PFG with Canada meet with the Canadian Ambassador to Serbia
Wednesday, 26 May 2021
PFG with Canada Meets with Canadian Ambassador to Serbia
The members of the Parliamentary Friendship Group with Canada, headed by Zoran Bojanic, met today with the newly-appointed Canadian Ambassador to Serbia H.E. Giles Norman.
---
At the very beginning of the meeting, Zoran Bojanic took the opportunity to congratulate the Ambassador and wish him successful cooperation with the National Assembly and Government of the Republic of Serbia. He introduced the Ambassador to MPs Enis Imamovic and Branimir Jovanovic, as representatives of various parliamentary groups in the Assembly, highlighting the MPs' commitment to deepening cooperation with Canada. He expressed the intention to organise a meeting between the 42-member PFG with Canada and the Ambassador in the near future, in order to discuss the many types of cooperation that can be established at the level of the two countries, despite their geographical distance, in detail.
The Ambassador thanked his hosts for the invitation, adding that the 80th anniversary of bilateral relations between the two countries is an excellent opportunity to discuss the results of the existing cooperation and its further development in various fields. He said that the over 100,000 strong Serbian community in Canada greatly contributes to the culture, art and the economy of the country.
Bojanic said that his home town of Kraljevo enjoys excellent cooperation with Canada, adding that the city of Kraljevo and the Canadian region of Niagara Falls had signed a Twinning Agreement. He stressed that Milomir Glavcic, a Canadian of Serbian origin, greatly contributed to the signing of this Agreement, whose large donations helped the renovation of the bridge over the Ibar in Kraljevo, the ends of which are graced by the Serbian and Canadian flags. He also pointed out that the Assembly's PFG with Canada was first established in 2012, when Bojanic, with the then MPs Aleksandra Djurovic and Marija Obradovic, founded the Friendship Group.
PGP member Enis Imamovic also addressed the Ambassador, emphasising the importance of the large Serbian community in Canada, and adding that Serbia could learn a lot from Canada in terms of including national minorities in society and the system of decentralisation of the state, which is an integral part of the Canadian Constitution.
Giles Norman said that Canada is home to more than 200 national minorities and considers this diversity a great success and strength, but on the other hand this brings with it many challenges.
Branimir Jovanovic said that despite the big differences between Serbia and Canada in terms of social organisation, size and the physical distance, these should not hinder cooperation. In support of that, he pointed out that last month the National Assembly ratified of the Social Security Agreement between the Government of the Republic of Serbia and the Government of Quebec.
The officials discussed many different types of cooperation - trade, mining, import of organic products to Canada from Serbia, the establishment of a direct flight between Belgrade to Toronoto, as well as cooperation at the local level.
---
---
saturday, 4 december
No announcements for selected date