National Assembly of the Republic of Serbia / Activities / Activity details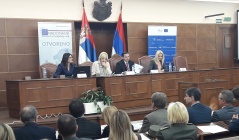 24 April 2017 Fourth plenary session of the National Convention on the European Union
Monday, 24 April 2017
National Convention – High Quality Logistic Support for Institutions in Serbia-EU Talks
The Deputy Speaker of the National Assembly of the Republic of Serbia Prof. Dr Vladimir Marinkovic took part in the fourth plenary session of the National Convention on the European Union dedicated to the results achieved and the plans for the coming period in the Serbia-EU talks.
---
Marinkovic said that the four-years of cooperation between the state institutions and civil society organizations, members of the National Convention, have so far proved to be an extremely efficient mechanism for understanding and keeping the public informed on the European integration process. He added that the National Convention as a consulting body has also greatly contributed to the work of the National Assembly committees and the Parliament as a whole and provides clear, good and high-quality logistical support to the state institutions to position Serbia as best possible in the negotiation process.

Marinkovic took the opportunity to talk about the Parliament's role in Serbia's Euro-integration process, stressing that the Resolution on the Role of the National Assembly and Principles in the Negotiations on the Accession of the Republic of Serbia to the European Union achieved broad political and social consensus on the structure and dynamics of the talks and clearly defined the working bodies' authority, primarily the European Integration Committee, in helping formulate Serbia's negotiating positions.

Jadranka Joksimovic, Minister without portfolio responsible for European integration, said that Euro-integration is not just a foreign policy decision, but also a mechanism of Serbia's internal development and prosperity. She emphasized the support of the Nation al Convention stressing that in these times of EU crisis civil society organizations and the state should join forces and continue to work on promoting the benefits of EU membership so as to stay on the course of stability and development.

Tanja Miscevic, Head of Serbia's Negotiating Team with the EU, said that the National Convention is an important segment of the talks control mechanism, adding that the previous period saw exceptional cooperation through both analytic support and the monitoring of assumed obligations, primarily as regards the rule of law. Miscevic announced that new negotiating positions are to be adopted in the coming period, that consultations for chapters 27 and 12, environment and food safety, veterinary and phytosanitary policy respectively, have been completed, and that the first Report on the rule of law is expected by the middle of the year.

Natasa Dragojlovic, coordinator of the National Convention on the European Union, thanked all involved for making it possible for the National Convention to become part of the formal procedure for the creation of Serbia's negotiating position, stressing that it would continue to be a reliable partner to the institutions.


---
---
friday, 4 december
No announcements for selected date