National Assembly of the Republic of Serbia / Activities / Activity details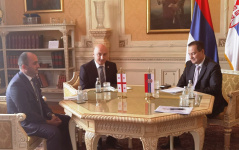 6 September 2021 The National Assembly Speaker and the non-resident Georgian Ambassador
Monday, 6 September 2021
National Assembly Speaker Ivica Dacic to Meet with Non-Resident Georgian Ambassador
The Speaker of the National Assembly of the Republic of Serbia Ivica Dacic received the non-resident Georgian Ambassador David Dondua in a courtesy visit today.
---
Welcoming the Georgian Ambassador, National Assembly Speaker Ivica Dacic wished him a successful term of office, pointing out that the bilateral relations between Serbia and Georgia are good, but that there is a lot of room for improvement, and adding that they could certainly benefit from more frequent contacts between parliamentarians. He pointed out that there is a desire and readiness on our part to develop relations between parliamentary friendship groups as they can be the initiators of numerous activities.
Georgian Ambassador David Dondua thanked the host, agreeing that there is a lot of room to improve cooperation and adding that the Georgian side is interested in intensifying parliamentary diplomacy, both bilaterally and multilaterally. He agreed that contacts of both parliamentary friendship groups as well as various committees can significantly contribute to the improvement of ties. He especially stressed that the parliament plays a big role in creating Georgia's foreign policy.
At the end of the conversation, National Assembly Speaker Ivica Dacic said that he would be very happy to host Georgian colleagues, also expressing his readiness to visit Georgia in person in his current capacity.
---
---