National Assembly of the Republic of Serbia / Activities / Activity details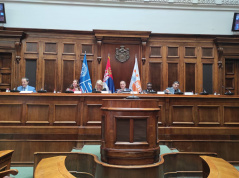 27 May 2022 National Assembly Speaker Ivica Dacic delivers an address at the presentation of the UNDP Depopulation Report
Friday, 27 May 2022
National Assembly Speaker Ivica Dacic at Presentation of UNDP Depopulation Report
The Speaker of the National Assembly of the Republic of Serbia Ivica Dacic spoke at the official presentation of the Serbia 2022 National Report on Human Development – human development as response to demographic changes.
---
THE FOLLOWING IS THE SPEECH OF THE SPEAKER OF THE NATIONAL ASSEMBLY OF THE REPUBLIC OF SERBIA IN ITS ENTIRETY:
"Respected colleagues,
Dear friends,
It is my great pleasure to have the opportunity to take part with you in the presentation of this extremely important Report, which no doubt be a good impetus to our already undertaken efforts in the field of population policy. First of all, I would like to stress that the initiative to make such a comprehensive and competent report came from the President of the Republic Aleksandar Vucic and in cooperation with Prime Minister Ana Brnabic, which in itself speaks of how high caring for the population and the measures we undertake to preserve that most important resource, rank among our state priorities.
I would like to thank the United Nations agencies, especially UNDP, for preparing this Report, which directly involved a team of leading international and domestic researchers.
As you know, Serbia is no exception when it comes to population shrinking and aging. This is unfortunately an inevitable process that affects all the nations in our immediate environment, even in the global context it is one of the most common negative trends. We cannot stop it although we want to, but we can find ways to mitigate its negative impact as much as possible, even find opportunities to make better use of the potentials of our population.
Serbia is well aware that its population, its people, no matter where they live, what they do and what age they are – is its greatest and most important social resource. All our attention, plans and strategies are focused exclusively on the constant improvement of the conditions in which our fellow citizens live, because we know very well that no policy, no state has a purpose if it is not reflected in a better life for our people.
In order to achieve this key national and state priority, in addition to our sincerest wish, we need a lot of work, skills and knowledge of the problems we face in terms of depopulation, migration, family strengthening and all the other factors affecting the state of our population. This strategic document is essential in these efforts, and I see its presentation today as a new, better stage in our work on population policy. It is especially important that we are presenting it in the National Assembly, the institution that belongs to all our citizens, so let that be a symbolic detail that on this issue we are turned and open to all of our citizens, without distinction.
I am convinced that this Report will be of great benefit to all those who will continue to create measures in this House, as well as in the Government of the Republic of Serbia, to solve the challenges of demographic change as efficiently as possible, and I am sure that today's presentation would be an important part of this common struggle.
Thank you and allow me to once again welcome you to the National Assembly!"
---
Photo gallery
---
---
monday, 15 august
11.00 - press conference of MP MA Ivan Kostic (National Assembly House, 13 Nikola Pasic Square, Central Hall)