National Assembly of the Republic of Serbia / Activities / Activity details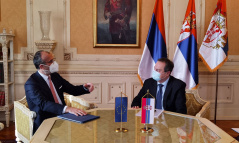 25 February 2021 National Assembly Speaker Ivica Dacic and the Head of the EU Delegation to Serbia Ambassador Sem Fabrizi
Thursday, 25 February 2021
National Assembly Speaker Ivica Dacic Receives Sem Fabrizi
The Speaker of the National Assembly of the Republic of Serbia Ivica Dacic met today with the Head of the EU Delegation to Serbia Ambassador Sem Fabrizi.
---
The officials discussed the second phase of the inter-party dialogue scheduled to start with a video-meeting on 1 March 2021. In addition to National Assembly Speaker Ivica Dacic and the Chair of the European Parliament's Committee on Foreign Affairs David McAllister, the meeting will also be attended by Vladimir Bilcik, Tanja Fajon, Knut Fleckenstein and Eduard Kukan. Ambassador Fabrizi emphasised the importance the European Union attaches to the continuation of the inter-party dialogue and welcomed its beginning.
At the Ambassador's question about the Constitutional amendment proposal the Government had forwarded to the National Assembly concerning changes in the part of the Constitution relating to the judiciary and election of judges, National Assembly Speaker Ivica Dacic informed the guest about the Constitutional amendment procedure, explaining that this is a complex process that includes a referendum.
Ivica Dacic also informed Ambassador Fabrizi that the law to ratify the Status Agreement between the Republic of Serbia and the European Union on Actions Carried Out by the European Border and Coast Guard Agency in the Republic of Serbia (Frontex) is on the agenda of the session currently in progress and that the National Assembly would be voting on it today.
---
Photo gallery
---
---
friday, 28 january
13.00 - meeting of the Inter-Party Dialogue Control Body (National Assembly House, 13 Nikola Pasic Square, hall 1)

17.00 - National Assembly Speaker Ivica Dacic meets with Inter-Party Dialogue co-facilitators (National Assembly House, 13 Nikola Pasic Square, hall 1)