National Assembly of the Republic of Serbia / Activities / Activity details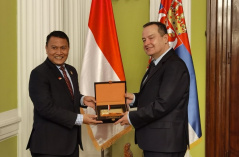 22 November 2021 National Assembly Speaker Ivica Dacic and the head of the Indonesian parliamentary delegation
Monday, 22 November 2021
National Assembly Speaker Ivica Dacic Receives Delegation of Indonesian House of Representatives
The Speaker of the National Assembly of the Republic of Serbia Ivica Dacic received a delegation of the House of Representatives of the Republic of Indonesia today, currently visiting Serbia.
---
The National Assembly Speaker expressed satisfaction with the visit of the Indonesian Parliamentary delegation, stressing that Serbia and Indonesia share good and friendly relations dating back to the time when the Non-Aligned Movement was founded. He expressed readiness to continue the strengthening of overall bilateral relations between the two countries by intensifying their interparliamentary cooperation. "The activities of the friendship groups in the Serbian and Indonesian parliaments contribute to the close cooperation between the two parliaments and there is also interest to exchange visits at the level of heads of parliament", said Ivica Dacic. He thanked Indonesia on its principled position on the Kosovo-Metohija issue, briefing the officials on the current situation in Kosovo-Metohija.

The head of the Indonesian parliamentary delegation Mardani Ali Sera agreed that the relations between the two countries are traditionally friendly and should be further improvement, emphasising that there is room to strengthen cooperation between the two countries in all areas, especially the economy. Speaking of Kosovo and Metohija, he confirmed that Indonesia respects the principles of territorial integrity and sovereignty and that it would not change its position.

In the course of the meeting, the officials opined that the existing interfaith dialogue between Serbia and Indonesia, which has so far seen four meetings, is very useful and contributes to a better understanding between two multi-ethnic and multi-confessional countries such as Serbia and Indonesia.

The delegation of the House of Representatives of the Republic of Indonesia extended an invitation to the National Assembly Speaker to come and visit Indonesia, as well as to take part in the 144th session of the Inter-Parliamentary Union, to be held in March 2022 in Indonesia.




---
Photo gallery
---
---
friday, 1 july
11.00 - the National Assembly Speaker addresses the conference on the Position of Serbia's in the Euro-Atlantic Community (National Assembly Building, 14 Kralja Milana Street, Grand Hall)