National Assembly of the Republic of Serbia / Activities / Activity details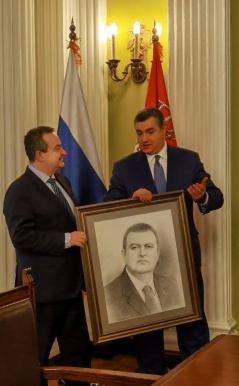 17 February 2021 The Speaker of the National Assembly of the Republic of Serbia Ivica Dacic with Chairman of the International Affairs Committee of the State Duma of the Russian Federation Leonid Slutsky
Wednesday, 17 February 2021
National Assembly Speaker Ivica Dacic Meets with Leonid Slutsky
The Speaker of the National Assembly of the Republic of Serbia Ivica Dacic met today with the Chairman of the International Affairs Committee of the State Duma of the Russian Federation Leonid Slutsky.
---
National Assembly Speaker Ivica Dacic said that the relations between the two countries are close and friendly and that they have been additionally strengthened in the difficult times caused by the global coronavirus pandemic. He thanked the Russian Federation for the help it provided to Serbia during the pandemic, emphasizing the personal contribution of Leonid Slutsky himself who, through the Russian Peace Fund which he heads, sent a donation to Serbia in the form of medical and protective equipment at the very beginning of the epidemic.
The officials expressed confidence that the existing strategic relations would continue to improve in all fields, emphasizing the readiness to further strengthen the segment of parliamentary cooperation between the two countries. Leonid Slutsky thanked Ivica Dacic for his personal contribution to the improvement of bilateral relations and strengthening of friendly ties between the Russian Federation and the Republic of Serbia, and expressed confidence that he would continue to do so in his new position, by strengthening cooperation between the two parliaments.
Leonid Slutsky conveyed the invitation of the Speaker of the State Duma Vyacheslav Volodin to the National Assembly Speaker to come and visit Moscow soon. The officials also discussed the next session of the Russian State Duma - National Assembly of the Republic of Serbia Cooperation Commission, which is supposed to be held in Belgrade.
The Assembly Speaker took the opportunity to once again thank the Russian Federation for the support it provides to the Republic of Serbia at the international level, especially in connection with the Kosovo-Metohija issue. Leonid Slutsky stressed that Serbia can always count on Russia's support.
In addition to bilateral parliamentary cooperation, the cooperation between parliamentary delegations within international organizations was also discussed.
---
Photo gallery
---
---
tuesday, 18 january
14.00 - the National Assembly Speaker meets with OSCE Parliamentary Assembly Secretary General (National Assembly House, 13 Nikola Pasic Square, diplomatic salon of Prince Pavle)