National Assembly of the Republic of Serbia / Activities / Activity details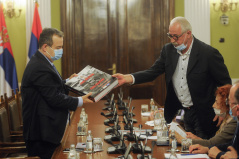 15 March 2021 The National Assembly Speaker in meeting with the delegation of the Association of Jasenovac Detainees and Descendants
Monday, 15 March 2021
National Assembly Speaker Ivica Dacic Meets with Jasenovac Detainees and Descendants Association Delegation
The Speaker of the National Assembly of the Republic of Serbia Ivica Dacic met with representatives of SUBNOR Serbia, Association of Jasenovac Detainees and Descendants and the Community of Associations of WWII Victims on the 80th anniversary of the Serbian uprising against fascism in July 1941, confirming Serbia as the bearer of anti-fascist tradition, and the 80th anniversary of the creation of Jasenovac and other Ustasha death camps where Serbs, Jews and Roma suffered in the most cruel ways.
---
It was jointly assessed that Serbia had greatly contributed to the victory of the allies in both wars by making immeasurable sacrifices. In addition to military stoicism and heroism, suffering is one of the key pillars of the identity of the Serbian people which should be safeguarded from historical revisionism.
On the occasion, the delegation of veterans' organizations thanked Speaker Dacic for his great support and presented him with the book "Ustasha final solution before the Nazi final solution" by professor Gideon Greif.
Speaker Dacic emphasised the importance of marking important dates in our history, especially historical dates of importance for the culture of remembrance of the sacrifices of the Serbian people.
---
Photo gallery
---
---
sunday, 22 may
No announcements for selected date