National Assembly of the Republic of Serbia / Activities / Activity details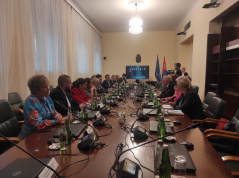 2 October 2023 The participants of the meeting
Monday, 2 October 2023
National Assembly Parliamentary Groups Representatives Meet with PACE Monitoring Committee Rapporteur
Representatives of National Assembly's parliamentary groups met today with the rapporteur of the Monitoring Committee of the Parliamentary Assembly of the Council of Europe (PACE), Axel Schafer.
---
Deputy Head of the "ALEKSANDAR VUCIC - TOGETHER WE CAN DO ANYTHING" Parliamentary Group Marina Ragus, National Assembly Deputy Speaker and Head of the IVICA DACIC - Socialist Party of Serbia Parliamentary Group Snezana Paunovic, National Assembly Deputy Speaker and Deputy Head of the Alliance of Vojvodina Hungarians Elvira Kovacs Parliamentary Group, National Assembly Deputy Speaker and Head of the FOR RECONCILIATION SPP-USS-DSHV Parliamentary Group Usame Zukorlic, Zagorka Aleksic on behalf of the United Serbia - Dragan Markovic Palma Parliamentary Group and the Head of the Social Democratic Party of Serbia Parliamentary Group Branimir Jovanovic, outlined, on behalf of the political parties representing the ruling majority, the significant progress achieved by the Republic of Serbia in all fields, and especially in improving the rule of law, human and minority rights and democratic processes.
They talked about the successful reform of the judiciary, which ensured the complete independence and autonomy of judges and prosecutors, pointing to the progress brought about by the inter-party dialogue on the improvement of electoral conditions and processes.
The representatives of the ruling majority emphasised the seriousness of the situation faced by the Serbian people on the territory of Kosovo-Metohija, who are denied fundamental human rights on a daily basis and spoke about the terror that even children face, underlining the importance of respecting the Brussels Agreement.
Representatives of the opposition parliamentary groups expressed a different view of the current situation in Serbia. Deputy Head of the DIRECTION EUROPE - SSP, PSG, OVERTURN, SLOGA Parliamentary Group Pavle Grbovic, Miodrag Gavrilovic on behalf of the Democratic Party – DS Parliamentary Group, Head of the People's Party Parliamentary Group Stefan Jovanovic, Djordje Stankovic of the People's Movement of Serbia - Ecological Uprising - New Face of Serbia Parliamentary Group and the Head of the Green - Left Front, Don't Let Belgrade D(r)own Parliamentary Group Radomir Lazovic, spoke about the media situation in Serbia, the safety of journalists and, as they said, the unequal representation of the ruling majority and opposition representatives in the overall media space.
Unlike their colleagues from the ruling majority, they expressed the view that the rule of law in our country is not at the desired level.
Regarding the difficult situation faced by the Serbs on the territory of the southern Serbian province, they agree that it is necessary to find an urgent solution, through dialogue and respect for the obligations assumed by both parties through signed agreements and resolutions.
Rapporteur Schafer and representatives of the PACE Secretariat are on a monitoring mission. As part of the visit, he previously met with National Assembly Speaker Dr Vladimir Orlic.
---
---