National Assembly of the Republic of Serbia / Activities / Activity details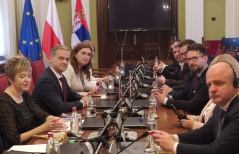 6 June 2023 The participants of the meeting
Tuesday, 6 June 2023
National Assembly Foreign Affairs Committee Meets with Polish Sejm Foreign Affairs Committee
The Foreign Affairs Committee of the National Assembly of the Republic of Serbia headed by Committee Chairman Borko Stefanovic met today with the delegation of the Foreign Affairs Committee of the Sejm of the Republic of Poland, headed by Committee Chairman Radosław Fogiel.
---
At the very beginning of the meeting, Stefanovic expressed satisfaction with the close parliamentary contacts between Serbia and Poland, adding that the two countries should deepen cooperation in areas of mutual interest.
He stressed that it is in Serbia's interest to become a full member of the EU as soon as possible, but according to him, the Serbian leadership is no longer even nominally in favour of this process.
In the course of the conversation, Stefanovic took the opportunity to inform the guests about the current events in our country and presented the reasons for the civic protest "Serbia against violence".
He repeated his position that Serbia's foreign policy should be aligned with the EU's foreign policy, and that it is necessary to impose sanctions on Russia.
Speaking of the situation in the southern province of Kosovo-Metohija, he emphasised that Kurti behaves destructively and persistently threatens Serbs in Kosovo-Metohija, adding that it is necessary to withdraw the police and illegitimate mayors and not cause conflicts, as well as to establish the Community of Serb Municipalities.
Fogiel agreed that the parliamentary cooperation between the two countries is at a high level, stressing that Poland strongly supports Serbia's European integration. He said that the enlargement process must not slip from the EU's focus, regardless of the aggression against Ukraine, and that Poland sees the countries of the Western Balkans in it. He said that Poland would appreciate it if Serbia would fully harmonise its foreign policy with the Union's, adding that such a move would weaken Russian action in Europe. Fogiel and the delegation expressed their condolences and support for the tragedies that happened in Serbian people at the beginning of May, expressing belief that this was an isolated case, which must not and would not happen again.
The officials also exchanged opinions about the last Council of Europe Summit and agreed that bilateral cooperation could be even stronger.
Foreign Affairs Committee members Elvira Kovacs, Dubravka Filipovski, Nemanja Joksimovic and Djordje Komlenski also took part in the meeting.
---
---
monday, 2 october
10.40 - the National Assembly Speaker's address at the event "Joy of Europe" (National Assembly House, 13 Nikola Pasic Square, Central Hall)

12.00 - continuation of the sitting of the Committee on the Economy, Regional Development, Trade, Tourism and Energy (National Assembly House, 13 Nikola Pasic Square, hall 2)

14.15 - the National Assembly Speaker meets with a delegation of rapporteurs of the Parliamentary Assembly of the Council of Europe Monitoring Committee (National Assembly House, 13 Nikola Pasic Square, hall 1)

16.00 - the heads of the parliamentary groups meet with the delegation of rapporteurs of the Parliamentary Assembly of the Council of Europe Monitoring Committee (National Assembly Building, 14 Kralja Milana Street, Blue Salon)

17.45 - the members of the Committee on Constitutional and Legislative Issues meet with the delegation of rapporteurs of the Parliamentary Assembly of the Council of Europe Monitoring Committee (National Assembly Building, 14 Kralja Milana Street, Blue Salon)