National Assembly of the Republic of Serbia / Activities / Activity details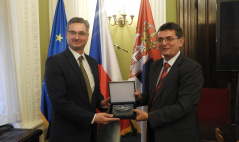 14 November 2019 National Assembly Deputy Speaker Veroljub Arsic and the Chairman of the Committee on European Affairs of the Chamber of Deputies of the Parliament of the Czech Republic Ondrej Benesik
Thursday, 14 November 2019
National Assembly Deputy Speaker Veroljub Arsic and Czech Parliamentary Delegation
National Assembly Deputy Speaker Veroljub Arsic met with a delegation of the Committee on European Affairs of the Chamber of Deputies of the Parliament of the Czech Republic, currently in visit to the Republic of Serbia.
---
Deputy Speaker Arsic highlighted the excellent friendly relations between Serbia and the Czech Republic evidenced in a comprehensive political dialogue. "The 24-strong PFG with the Czech Republic is very interested in advancing the parliamentary cooperation between the two countries", said Arsic.
The National Assembly Deputy Speaker thanked the Czech parliamentary delegation for its support on Serbia's path to the European Union. Arsic said that in the course of Romania's presidency Serbia had opened a new negotiation chapter and is expected to open one more before the end of the year, even though it has met the requirements for additional four.

Deputy Speaker Arsic reminded the guests that the situation in the Western Balkans has for decades now been very unstable and the integration of the region into the EU would contribute to economic stability, as well as peace and security in the region. According to him, Serbia is committed to the normalization of relations with Pristina and finding a mutually satisfactory compromise solution. Serbia has fulfilled all of its obligations under the Brussels Agreement, unlike the provisional institutions in Kosovo which have yet to enable the establishment of a community of Serb municipalities.
The dialogue has been blocked by the imposition of the 100% customs tariff on Serbian products. "We truly want to come to a mutually acceptable solution and we hope the international institutions would appeal to the Pristina authorities to come to the negotiating table", said Deputy Speaker Arsic.
The Chairman of the Committee on European Affairs of the Chamber of Deputies of the Parliament of the Czech Republic Ondrej Benesik thanked the host for the reception at the highest level. The intensity of the visits at the parliamentary and executive level testifies to the two countries' excellent economic and political relations, as well as education and cultural cooperation.
Benesik said he supports Serbia's European path, adding that the European Union is not just a political system, it is a system of values which Serbia undoubtedly belongs to.
"The Czech Republic supports Serbia's EU ambitions and our Committee regularly conveys its members' support of Serbia's efforts to become a member of the EU to the Prime Minister", said Benesik.
Benesik also agreed about international pressure on the Pristina authorities to meet its obligations so that the dialogue could continue and that one should be careful when considering so-called Kosovo's attempts to join international organizations.


---
---
tuesday, 18 january
14.00 - the National Assembly Speaker meets with OSCE Parliamentary Assembly Secretary General (National Assembly House, 13 Nikola Pasic Square, diplomatic salon of Prince Pavle)