National Assembly of the Republic of Serbia / Activities / Activity details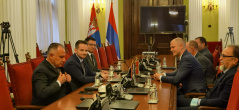 24 September 2021 National Assembly Deputy Speaker Stefan Krkobabic in meeting with the delegation of the Workers' Party of Montenegro
Friday, 24 September 2021
National Assembly Deputy Speaker Stefan Krkobabic Meets with Delegation of Workers' Party of Montenegro
At the very beginning of the meeting, National Assembly Deputy Speaker Stefan Krkobabic greeted the delegation of the Workers' Party of Montenegro, headed by Montenegrin MP Maksim Vucinic.
---
The officials discussed the cooperation between the two countries' parliaments, as well as the cooperation between the two parliamentary clubs - PUPS -"Three P's" and the Democratic Front of Montenegro. The two parties sharing very similar areas of action i.e. preserving the dignity of the working class, pensioners and businessmen, discussed the protection of the abovementioned groups' interests and cooperation that would contribute to the improvement of their position in society. Krkobabic was also interested in the current situation of the Serbian population and the protection of their interests in Montenegro, adding that Serbia's policy is such that it is always focused on dialogue and exchange of ideas, but that decisions are made exclusively in the interest of citizens.
Maksim Vucinic said that, a year ago, he was elected the youngest member of the Montenegrin Parliament's 27th legislature and that today he has the honour to launch his first diplomatic mission in the former Assembly of the Federal Republic of Yugoslavia with National Assembly Deputy Speaker Stefan Krkobabic. He underlined the fact that Serbia and Montenegro are first and foremost connected by a common history, families, even economic cooperation, and such ties are unbreakable and should be nurtured and strengthened.
The officials paid special attention to economic cooperation, as well as strengthening the existing and establishment of new types of cooperation. These topics were also supported by Ivan Ivanovic and Predrag Marojevic, representatives of the Workers' Party Expert Council, and Party Vice President Momcilo Manojlovic.
Speaking of economic cooperation, MP Dragan M. Markovic said that PUPS has been using a very successful model of establishing business cooperatives, subsidised by the Government of the Republic of Serbia, which is an example of good practice in employing young people in the countryside and helping farming households.
---
---