National Assembly of the Republic of Serbia / Activities / Activity details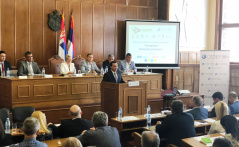 22 May 2018 National Assembly Deputy Speaker Prof. Dr Vladimir Marinkovic at the Energy Week regulatory conference
Wednesday, 23 May 2018
National Assembly Deputy Speaker Prof. Dr Vladimir Marinkovic at Energy Week Regulatory Conference
National Assembly Deputy Speaker Prof. Dr Vladimir Marinkovic took part in the Energy Week regulatory conference on Energy and Climate Change.
---
Head of CEDEF (Central European Development Forum) Prof. Dr Ana B. Bovan said that the purpose of Energy Week is to bring together experts and all parties interested in sustainable development, green and clean energy. The CEDEF Energy Week, for the second year running, follows in the footsteps of EU's Sustainable Energy Week. Bovan said it is important to keep the discussion on energy and climate change going as these are areas difficult to regulate both on paper and in the field. Raising awareness and changing our stance on the topic is the only thing that can help us fight climate change, Bovan concluded.
National Assembly Deputy Speaker Prof. Dr Vladimir Marinkovic said he was honoured to be taking part in the regulatory conference and to see the National Assembly included in the civil sector's activities aimed toward energy sustainability energy and environmental protection. He said that today's gathering is an excellent example of the public-private partnership needed for a topic like this.
"For us as a poor country, the road to green energy is strewn with obstacles which can sometimes have a negative effect on the society and citizens. That is why we need to act and tackle environmental issues the head on. That is also the reason why our European path and European integration are important not only for the accompanying legislative harmonization, but in the part where the Energy Community defines clear goals we should all strive for as well. These goals should be long-term and include the scientific and education community, raise public awareness, especially among young people, and include organizing open debates to garner positive and constructive criticism and suggestions which would lead to the modernization of the country and overall development. That is why the future climate change law will be one of the most important pieces of legislation this legislature will discuss", said Deputy Speaker Marinkovic.
The Energy Week conference which also touched on the Serbian and EU energy and climate change strategies, regulatory framework, implementation of energy and environmental measures and the role of international financial institutions in investing into energy, was attended by Minister of Environmental Protection Goran Trivan, State Secretary at the Ministry of Mining and Energy Zoran Predic, Head of the Economic and Commercial Section of the Embassy of Greece Lambis Kounalakis, representative of the Serbian Lobbyists Association Nenad Vukovic, representative of the International Finance Corporation Marijan Rancic, representative of the European Bank for Rehabilitation and Development Ana Bahurova and representative of the Environmental Protection Agency Filip Radovic.


---
---
wednesday, 15 july
13.00 - press conference of MPs Sasa Radulovic, Branka Stamenkovic and Vojin Biljic (National Assembly House, 13 Nikola Pasic Square, Central Hall)