National Assembly of the Republic of Serbia / Activities / Activity details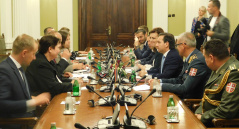 15 June 2018 Deputy Speaker Marinkovic and Slovak Minister of Defence Peter Gajdos
Friday, 15 June 2018
National Assembly Deputy Speaker Prof. Dr Vladimir Marinkovic Receives Slovak Minister of Defence
National Assembly Deputy Speaker Prof. Dr Vladimir Marinkovic met today Slovak Minister of Defence Peter Gajdos, currently in official visit to Serbia.
---
Deputy Speaker Marinkovic said that the National Assembly is very pleased with the level of political cooperation with Slovak institutions as evidenced by the Slovak Parliament Speaker's recent visit to Serbia. He said that in the two countries' overall bilateral relations there is ample room to expand military and defence, as well as economic cooperation.
Deputy Speaker Marinkovic thanked Minister Gajdos for Slovakia's support of Serbia's sovereignty in the case of its southern province of Kosovo-Metohija. Marinkovic also thanked Slovakia for its support as regards Serbia's top foreign policy priority – EU accession. He added that Serbia and its parliament would continue to improve the rights of the Slovak minority in Serbia in line with the highest European standards. He expects the two countries' economic cooperation would also improve and that the trade move beyond the 700 million EUR it generated so far to reach a billion. Marinkovic said he was pleased that Serbia and Slovakia both take part in multinational operations adding that the parliament would encourage cooperation of this kind in the future.
Slovak Minister of Defence Peter Gajdos said that Slovakia's stance on Kosovo-Metohija remains unchanged, consistent and firm. He stressed that there is no doubt that his country considers Serbia a foreign policy priority and strongly supports Serbia's territorial integrity and EU integration. He said that he was very pleased that, in addition to cooperation under the auspices of international operations, Serbia and Slovakia also cooperate in the fight against terrorism, extremism and illegal immigration.
Dubravka Filipovski, member of the Defence and Internal Affairs Committee and European Integration Committee, praised Slovakia's efforts during its presidency of the EU Council to open new negotiation chapters with Serbia and the development of female entrepreneurship in Slovakia, a model Serbia both adopted and implemented. She commended the two countries' defence and security cooperation stressing the need to advance cooperation on cyber security and emergency situations. Filipovski opined that this visit is just the beginning of cooperation between the relevant parliamentary committees with the aim of preserving European security.

The meeting was also attended by Aleksandra Markovic, member of the Defence and Internal Affairs Committee.

---
---
monday, 28 september
No announcements for selected date