National Assembly of the Republic of Serbia / Activities / Activity details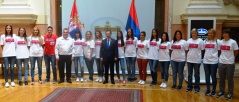 8 July 2016 National Assembly Deputy Speaker Prof. Dr Vladimir Marinkovic and the Serbian women's national softball team
Friday, 8 July 2016
National Assembly Deputy Speaker Prof. Dr Vladimir Marinkovic Receives Serbian National Softball Team
National Assembly Deputy Speaker Prof. Dr Vladimir Marinkovic met today with the Serbian women's national softball team, bound for the World Championship in Canada on 12 July.
---
Welcoming the athletes, Marinkovic expressed enormous pleasure to be able to wish them success on the behalf of the National Assembly before their trip to the World Championship.

"It is an honour to be able to greet you and wish you good results, your success is also the state's success because besides representing yourselves and your sport, you are also representing our country and I am sure you will defend its colours in Canada as best you can", said Marinkovic.

Finally, he told the young athletes to be secure in the knowledge that the state will always be there for its best and stand behind them.


---
---
friday, 27 november
10.00 - National Assembly Speaker Ivica Dacic meets with the Ambassador of the United Kingdom of Great Britain and Northern Ireland to the Republic of Serbia Sian MacLeod (National Assembly House, 13 Nikola Pasic Square, diplomatic salon of Prince Pavle)