National Assembly of the Republic of Serbia / Activities / Activity details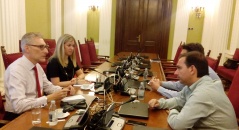 14 August 2017 Deputy Speaker Marinkovic in meeting with Public Accountability Institute Director Joseph Christoff
Monday, 14 August 2017
National Assembly Deputy Speaker Marinkovic Meets with Public Accountability Institute Director
Today, National Assembly Deputy Speaker Prof. Dr Vladimir Marinkovic received Joseph Christoff, Director of the Institute for Public Accountability and former Director of the US Government Accountability Office, to discuss the cooperation between the National Assembly and the independent institutions and regulatory bodies in Serbia.
---
They focused on the cooperation between the National Assembly and the State Audit Institution (DRI) with which Christoff cooperates closely as an associate and consultant within the USAID Judicial Reform and Government Accountability project. They spoke about how the MPs use the DRI's annual reports, as well as the reports of the other independent institutions that submit annual reports to the National Assembly. They agreed that the independent institutions should highlight the recommendations contained in their reports to make them more easily accessible to the MPs in their day-to-day work.
Deputy Speaker Marinkovic said that the National Assembly has excellent cooperation with all the independent institutions and regulatory bodies and the MPs are trying their best to support the institutions' efforts to achieve independence, mentioning the DRI as an excellent example as the body makes independent decisions on its auditees and its actions pursuant to the law.
The officials agreed that there is a definite lack of proper mechanisms, at times even of proper audits, to enable the DRI to launch and conduct actions/trials, a problem Serbia shares with other countries which should focus on improving legislation and making these procedures possible, and this would in turn reduce corruption in the society.
---
---
| M | T | W | T | F | S | S |
| --- | --- | --- | --- | --- | --- | --- |
| 27 | 28 | 29 | 30 | 31 | 1 | 2 |
| 3 | 4 | 5 | 6 | 7 | 8 | 9 |
| 10 | 11 | 12 | 13 | 14 | 15 | 16 |
| 17 | 18 | 19 | 20 | 21 | 22 | 23 |
| 24 | 25 | 26 | 27 | 28 | 29 | 30 |
| 31 | 1 | 2 | 3 | 4 | 5 | 6 |
sunday, 9 august
No announcements for selected date