National Assembly of the Republic of Serbia / Activities / Activity details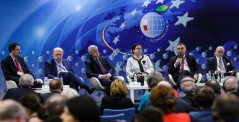 28 January 2017 National Assembly Deputy Speaker Gordana Comic at the 10th Europe – Ukraine Forum in Poland
Saturday, 28 January 2017
National Assembly Deputy Speaker Gordana Comic at 10th Europe – Ukraine Forum
The Institute for Eastern Studies organized the 10th Europe – Ukraine Forum with the motto "Opportunities Not to Be Missed", in Rzeszów, Poland, 27 - 28 January 2017.
---
The Forum was attended by about 1000 participants, representatives of governments, parliaments, universities and scientific institutes from 26 countries. The Forum's 30 plus panels focused on Ukraine's economic potential, energy security, international relations, impact of culture and history on current relations between states, and potentials for regional development and cooperation with Polish and other European partners. The reforms in Ukraine were a particular focus of attention, as were opportunities stemming from the EU-Ukraine Accession Agreement and the creation of an environment conducive to the development of local self-government and civil society.

National Assembly Deputy Speaker and European Integration Committee Member Gordana Comic spoke at the plenary session on Sovereignty, Democracy, Development: How Central and Eastern Europe Has Changed over the Past 25 Years, on 28 January 2017. The plenary session was attended by Victor Dolidze, Georgian Minister for European and Euro-Atlantic Integration, Michal Katsevich, Polish journalist, Andrius Kubilius, former Prime Minister of Lithuania, Anatoliy Kinakh, President of the Ukrainian League of Industrialists and Entrepreneurs, and Jan Malicki, Director of the Centre for East European Studies of the Warsaw University, Poland.

Comic reminded the participants of the session of the different periods the countries of central and eastern Europe had gone through in the last 25 years, Serbia among them, stressing the importance of recognizing the values of the rule of law, human rights and freedoms as crucial for the future. She added that the future developments in Europe cannot be foreseen, hoping that Europe has learned the lessons of its past and that there would be no war conflicts on its territory. She said that the European Union has to tackle an important task – to recover the trst into its policy of accord and value of human rights, freedoms and tolerance among the people, and that Serbia has reached a consensus on its European path which would not in any way be compromised in the future.

The participants agreed that they must persevere in their efforts to preserve European values, consolidate the European Union and successfully overcome all obstacles, because the European Union has no alternative.


---
---
| M | T | W | T | F | S | S |
| --- | --- | --- | --- | --- | --- | --- |
| 27 | 28 | 29 | 30 | 31 | 1 | 2 |
| 3 | 4 | 5 | 6 | 7 | 8 | 9 |
| 10 | 11 | 12 | 13 | 14 | 15 | 16 |
| 17 | 18 | 19 | 20 | 21 | 22 | 23 |
| 24 | 25 | 26 | 27 | 28 | 29 | 30 |
| 31 | 1 | 2 | 3 | 4 | 5 | 6 |
thursday, 13 august
No announcements for selected date