National Assembly of the Republic of Serbia / Activities / Activity details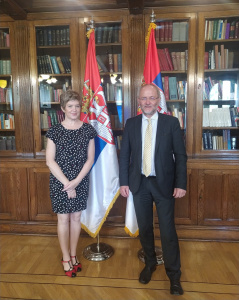 17 June 2022 National Assembly Deputy Speaker Elvira Kovacs and Bundestag member Volkmar Klein
Friday, 17 June 2022
National Assembly Deputy Speaker Elvira Kovacs Meets with Bundestag Member
Elvira Kovacs, National Assembly Deputy Speaker and Chairperson of the European Integration Committee, met today in the National Assembly with Volkmar Klein, federal deputy of the CDU/CSU Parliamentary Group, currently in a one-day visit to Belgrade.
---
Elvira Kovacs briefed the official about the current political situation in Serbia, following the parliamentary and presidential elections held on 3 April 2022. Kovacs said that she represents the Hungarian national minority in the Parliament, pointing out that Serbia is a multinational state, home to more than 20 national minority communities. Serbia is a good example of respecting minority rights, she added, saying that there is a "natural threshold" for members of national minorities to enter the National Assembly, that being between 10,000 and 20,000 votes, depending on the total turnout.
Elvira Kovacs said that European integration is Serbia's foreign policy priority, but it is important that Serbia receives positive signals from the EU on this issue and that the Western Balkan countries should not be "viewed as a package" because not all of them have reached the same level of reform and European integration process.
The officials agreed that regional cooperation is extremely important for peace and stability in the region, as well as the European integration process. Volkmar Klein said that both bilateral cooperation between the candidate countries and EU members and mutual cooperation between the Western Balkan countries are important in the European integration process. He concluded that the Open Balkan initiative is of great importance in that sense and is closely connected with the Berlin process initiated by former Chancellor Angela Merkel.
---
---
wednesday, 17 august
No announcements for selected date