National Assembly of the Republic of Serbia / Activities / Activity details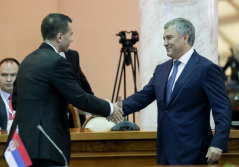 5 November 2019 National Assembly Deputy Speaker Djordje Milicevic and the Speaker of the Russian State Duma and Chairman of the CSTO PA Council Vyacheslav Volodin
Tuesday, 5 November 2019
National Assembly Deputy Speaker Djordje Milicevic at CSTO PA Plenary Session
The Deputy Speaker of the National Assembly of the Republic of Serbia Djordje Milicevic addressed the participants of the plenary session of the Parliamentary Assembly of the Collective Security Treaty Organisation (CSTO PA) in Yerevan.
---
In his address, Milicevic pointed out that the Republic of Serbia, through its policy of military neutrality and willingness to participate in the work of the CSTO PA as an observer, affirms the sovereignty and independence of its international position and the pursuit of international stability, peace and development. Serbia strongly supports multilateralism and enhancement of multilateral efficiency, because only through joint action, mutual harmonization and appreciation can we find answers in the face of increasing global challenges, which require the dedicated engagement of all multilateral fora.
Deputy Speaker Milicevic reminded the attending of the importance of respecting multilateral principles and international law confirmed at the 141st Assembly of the Inter-Parliamentary Union held last month in Belgrade and attended by 150 parliamentary delegations and around 2000 delegates from around the world. The Belgrade Declaration adopted at the Assembly is dedicated to the maintenance and strengthening of international law and the wish to see dialogue win over disagreement and conflict.

Milicevic advocated respect for the UN Charter and the fundamental principles of international law such as the principle of territorial integrity and independence of sovereign states, thanking the member states of the Collective Security Treaty Organisation for their continuous and principled support on the unilaterally declared independence of Kosovo-Metohija that is their non-recognition of it and respect for the universal principles of international law.
Deputy Speaker Milicevic expressed the Republic of Serbia's commitment to improving relations with the countries of the Eurasian region, with new perspectives opened up by the recent signing of the Free Trade Agreement between Serbia and the Eurasian Economic Union in Moscow.
In the course of the official visit, National Assembly Deputy Speaker Djordje Milicevic also met with the Speaker of the Russian State Duma and Chairman of the CSTO PA Council Vyacheslav Volodin, Armenian Prime Minister Nikol Pashinyan and laid a wreath at the monument to the victims of World War II.
The National Assembly delegation taking part in the plenary session of the Parliamentary Assembly of the Collective Security Treaty Organisation also includes the Head of the National Assembly standing delegation to CSTO PA Milovan Drecun, and standing delegation members Jovan Palalic and Zoran Radojicic.


---
---
thursday, 18 august
No announcements for selected date