National Assembly of the Republic of Serbia / Activities / Activity details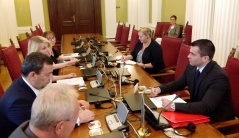 18 July 2017 Deputy Speaker Milicevic and the PACE Monitoring Committee co-rapporteurs
Tuesday, 18 July 2017
National Assembly Deputy Speaker Djordje Milicevic Receives PACE Monitoring Committee Mission
National Assembly Deputy Speaker Djordje Milicevic met today with Samad Seyidov and Maria Guzenina, co-rapporteurs of the Parliamentary Assembly of the Council of Europe (PACE) Monitoring Committee co-rapporteurs, to discuss the reform process in Serbia, European integration, upcoming constitutional reform and Serbia's readiness to move from the stage of regular monitoring to the stage of post-monitoring dialogue.
---
Deputy Speaker Milicevic said that Serbia wishes to continue cooperating with PACE and all of its bodies and thanked the organization for its support of Serbia and its reform process.

"Serbia is ready to move from the stage of regular monitoring to the stage of post-monitoring dialogue which we expect to be included in the reports on Serbia's abiding by the obligations and duties it had assumed. The opening of EU negotiation chapters is a guarantee that Serbia will meet the high standards of human rights and rule of law in general", said Milicevic.

Deputy Speaker Milicevic stated that Serbia is prepared fully assist the co-rapporteurs in the drafting of the report reminding them of the Serbian officials' excellent cooperation with the Council of Europe and PACE officials. He said that Serbia is a reliable, trustworthy, credible and predictable partner. Deputy Speaker Milicevic also briefed the officials on the situation in Serbia after the presidential election and establishment of the new Government, reminding them that full EU membership is Serbia's strategic commitment and one of its key foreign policy goals, but that Serbia is also dedicated to strengthening cooperation with its traditional friends such as the US, Russia, China and others. He said that Serbia cooperates with NATO and CSTO, but remains a military neutral country and pursues its own policies independently and in the interest of its citizens.

"Serbia's new Government is a Government of progress, prosperity and stability, it will complete the internal political and economic reform and continue on the path of European integration. It is a Government that will continue to strengthen Serbia's reputation and image and help it remain a symbol of peace, stability and good-neighbourly relations in the region. It is also a Government which will pursue a decisive, rational and reasonable policy to best protect its national interests in Kosovo-Metohija, because there is no alternative to dialogue and it is the only way to come up with acceptable solutions", said Milicevic.

PACE Monitoring Committee co-rapporteurs Samad Seyidov and Maria Guzenina commended the work of the National Assembly standing delegation to PACE and urged them to continue to cooperate with its rapporteurs.

The meeting, also attended by the Head of the Council of Europe Mission Tim Cartwright and Monitoring Committee secretary Sylvie Affholder, touched on launching constitutional reform in Serbia, the citizens' support for the European integration process, election of new Ombudsman and the results of the economic reform.


---
---
| M | T | W | T | F | S | S |
| --- | --- | --- | --- | --- | --- | --- |
| 27 | 28 | 29 | 30 | 31 | 1 | 2 |
| 3 | 4 | 5 | 6 | 7 | 8 | 9 |
| 10 | 11 | 12 | 13 | 14 | 15 | 16 |
| 17 | 18 | 19 | 20 | 21 | 22 | 23 |
| 24 | 25 | 26 | 27 | 28 | 29 | 30 |
| 31 | 1 | 2 | 3 | 4 | 5 | 6 |
saturday, 15 august
No announcements for selected date