National Assembly of the Republic of Serbia / Activities / Activity details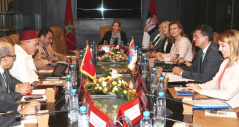 28 October 2019 National Assembly delegation in bilateral visit to Morocco
Monday, 28 October 2019
National Assembly Delegation in Bilateral Visit to Morocco
A National Assembly delegation headed by Deputy Speaker Veroljub Arsic and comprising members of the Foreign Affairs Committee and the Parliamentary Friendship Group with Morocco: Dubravka Filipovski, Stefana Miladinovic, Ljiljana Malusic and Nikola Savic, paid a bilateral visit to Morocco, 25 – 28 October 2019, at the invitation of the Speaker of the House of Representatives of the Parliament of the Kingdom of Morocco, Habib El Malki.
---
The officials remarked that the decades-long friendship between Morocco and Serbia has been intensified in the last few years as evidenced by the exchange of visits, including parliamentary visits at the highest level.
The representatives of the Moroccan Parliament reaffirmed that Morocco respects Serbia sovereignty and territorial integrity and would not change its stance. They believe that a mutually acceptable solution must be found through dialogue.

They also opined that the Memorandum of Understanding between the National Assembly of the Republic of Serbia and the House of Representatives of the Kingdom of Morocco signed in 2018 contributes to the strengthening of parliamentary cooperation and is the first step toward the establishment of a strategic partnership.
National Assembly Deputy Speaker Veroljub Arsic thanked Morocco for the support in the matter of its southern province and principled stance that dialogue is the only way to come to a mutually acceptable solution. That stance, he stressed, shows support for Serbia and overall peace.
The officials emphasized the importance of parliamentary diplomacy in overall bilateral relations, stressing they were prepared to intensify economic cooperation, as well as cooperation in other areas, including continued support in international organizations in matters of mutual interest. Finally, the host again praised Serbia's dedication to the Belgrade-Pristina dialogue as a way to find a mutually acceptable compromise solution to guarantee lasting peace.
In the course of the visit the delegation also met with the Deputy Speaker of the House of Representatives Slimane El Omrani, Deputy Speaker of the House of Councillors Hamid Souri, Chairman of the Committee on Foreign Affairs, National Defence, Islamic Affairs and Moroccans Residing Abroad Youssef Gharbi and the members of the Parliamentary Friendship Group with Serbia.


---
---
saturday, 6 june
No announcements for selected date