National Assembly of the Republic of Serbia / Activities / Activity details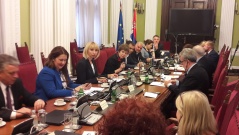 23 May 2017 The members of the European Integration Committee and the delegation of the European Parliament's Committee on Constitutional Affairs
Tuesday, 23 May 2017
National Assembly's European Integration Committee Meets with European Parliament's Committee on Constitutional Affairs
The members of the National Assembly's European Integration Committee met today, at the National Assembly House, with the European Parliament's Committee on Constitutional Affairs to discuss Serbia's EU accession process.
---
Committee Deputy Chairperson Elvira Kovacs said that EU membership is Serbia's strategic goal, one in which the National Assembly plays the important role of harmonizing the national legislation with the EU acquis. Kovacs said that Serbia is aware that the obligations stemming from the accession process mean amending the Constitution and concluded that the actual accession is to be preceded by at least two amendments to the Constitution and a referendum on joining the European Union. She said that the amendments mainly concern establishing full autonomy of the judiciary and regulating the rights and freedoms of national minorities, as envisioned by the Action Plan for Chapter 23, while the second amendment is expected to happen once the talks are completed, before the accession itself and it concerns the introduction of a preamble on EU accession into the Constitution.

The European Integration Committee members thanked the European Union for its support hoping that by the end of the Maltese presidency Serbia would open two additional negotiation chapters. At the same time the opposition MPs said they hoped the independence of the judiciary would soon be regulated through amendments to the Constitution.

The members of the EP delegation headed by György Schöpflin were briefed on the role the National Assembly and its working bodies play in the negotiation process and the steps Serbia is expected to take next in it.


---
---
tuesday, 29 november
11.00 - sitting of the Committee on Finance, State Budget and Control of Public Spending (National Assembly House, 13 Nikola Pasic Square, hall 2)

11.00 - video meeting of the members of the National Assembly Foreign Affairs Committee and the Ukrainian Verkhovna Rada (National Assembly House, 13 Nikola Pasic Square, hall 4)

12.00 - press conference of MP MA Ivan Kostic (National Assembly House, 13 Nikola Pasic Square, Central Hall)

12.30 - the National Assembly Speaker meets with Cypriot Minister of Defence (National Assembly House, 13 Nikola Pasic Square, hall 1)