National Assembly of the Republic of Serbia / Activities / Activity details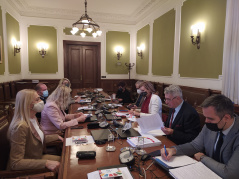 27 January 2021 Meeting of the National Assembly's Focus Group for the Development of Control Mechanisms for the Process of Implementation of Sustainable Development Goals
Wednesday, 27 January 2021
Meeting of the National Assembly's Focus Group for the Development of Control Mechanisms for the Process of Implementation of Sustainable Development Goals
The members of the Focus Group for the Development of Control Mechanisms for the Process of Implementation of Sustainable Development Goals met today to discuss the results achieved by the Group so far and planned future activities.
---
Focus Group Coordinator Dr Milorad Mijatovic said that the results achieved so far are visible and not only in the National Assembly.
Mijatovic said that it was important to, in the coming period, submit a request to the competent Committee on Administrative, Budgetary, Mandate and Immunity Issues to adopt a proposal requiring that proposed acts must be accompanied by an impact analysis overview concerning the implementation of the 2030 Agenda and to initiate the adoption of the Declaration on Sustainable Development Goals in the National Assembly.
The meeting, attended, in addition to the coordinator Dr Milorad Mijatovic, by Focus Group members Dubravka Filipovski, Radovan Tvrdisic, Dr Aleksandra Tomic, Milanka Jevtovic Vukojicic, Ljiljana Malusic, Goran Kovacevic and Jasmina Karanac, also focused on the importance of lowering the implementation of the Sustainable Development Goals to the level of local self-governments and the importance of communication between the MPs and representatives of local communities.
The participants of the meeting agreed that, in the coming period, it would be important to establish cooperation with high schools and universities, in order to develop awareness and interest among young people for the important topic of implementation of Sustainable Development Goals.
The participants also agreed that it would be good to make a plan for media appearances and campaigns to promote the 2030 Agenda.
---
---
thursday, 11 august
No announcements for selected date