National Assembly of the Republic of Serbia / Activities / Activity details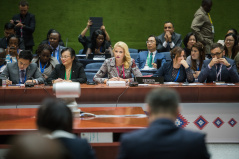 14 October 2019 MPs Sandra Bozic and Jelena Mijatovic at the Forum of Young Parliamentarians at the 141st IPU Assembly
Monday, 14 October 2019
MPs Sandra Bozic and Jelena Mijatovic at Forum of Young Parliamentarians
MPs Sandra Bozic and Jelena Mijatovic took part in the Forum of Young Parliamentarians, held under the auspices of the 141st Assembly of the Inter-Parliamentary Union (IPU) in Belgrade.
---
MP Sandra Bozic said that the youth is the future of a state and nation, its driving force and limitless source of new ideas, and the Republic of Serbia is strategically committed to investing into its youth.
Bozic said that Serbia is one of few countries that have a ministry in charge of youth-related issues – Ministry of Youth and Sport, and the Law on Youth passed in 2011 stipulates that a Strategy for Youth be passed every ten years and the state secure funds for its objectives.
Youth Council, the Government's advisory body, was founded in 2014, said Sandra Bozic adding that the Republic of Serbia is one of the countries that have established the institute of the Youth Office as an important mechanism for the efficient encouragement of the development of youth policy at the local level.
The Fund for Young Talents is testimony to Serbia's systemic care for young people and their future. Annually, the Fund provides scholarships and awards for over 3400 high-school and university students.
One of the country's priorities is to create better job opportunities and conditions for self-employment for the youth, said Bozic. In the last five years alone, thanks to youth employment projects, 2500 young people became employed/self-employed and more than 30,000 young people attended employment training, career management and professional practice programmes.
"As young parliamentarians, we have to raise awareness on the need to create a new vision of youth prosperity. The future of our societies is in our hands", MP Sandra Bozic concluded.

MP Jelena Mijatovic said that the MPs are in constant communication with the young people via youth associations and youth offices.
Speaking of the importance of SDG 3: Ensure healthy lives and promote wellbeing for all at all ages, Mijatovic said that the Ministry of Health puts this at the very top of its priorities and has set up an interdepartmental working group to help achieve this goal.
The Government of the Republic of Serbia had adopted the Public Health Strategy in the Republic of Serbia 2018 – 2026, she said.

Jelena Mijatovic said that at the proposal of then National Assembly Speaker, young parliamentarian Dr Nebojsa Stefanovic who recognized the problems in the universal health coverage of children, mothers and pregnant women, in 2013 the National Assembly adopted the Law on the Exercise of Right to Health Care of Children, Pregnant Women and Mothers with which these vulnerable social groups were granted complete health coverage. "Serbia is on a good way to achieve universal health coverage" Jelena Mijatovic concluded.


---
Photo gallery
---
---
tuesday, 25 january
12.00 - the National Assembly Speaker meets with representatives of the Chamber of Nurses and Healthcare Technicians (National Assembly House, 13 Nikola Pasic Square, hall 1)