National Assembly of the Republic of Serbia / Activities / Activity details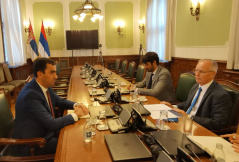 22 July 2021 MP Nenad Mitrovic in meeting with the Head of OSCE Mission to Serbia Jan Braathu
Thursday, 22 July 2021
MP Nenad Mitrovic Meets with Head of OSCE Mission to Serbia Jan Braathu
MP Nenad Mitrovic met today at the National Assembly House with the Head of OSCE Mission to Serbia Jan Braathu to discuss the ongoing and future types of cooperation.
---
Mitrovic said he hoped Serbia and the OSCE Mission would continue with their cooperation in the process of democratisation and maintenance of peace and stability in the region, which are Serbia's chief goals. He stressed that Serbia supports the OSCE Mission's work with whom it has enjoyed excellent cooperation since its establishment, based on mutual respect and partnership.
Braathu praised the results of the cooperation so far stressing that the OSCE Mission in Serbia has a lot to offer in terms of assistance and expert advice.
---
---
wednesday, 8 december
11.00 - sitting of the Committee on the Economy, Regional Development, Trade, Tourism and Energy (National Assembly House, 13 Nikola Pasic Square, hall 2)