National Assembly of the Republic of Serbia / Activities / Activity details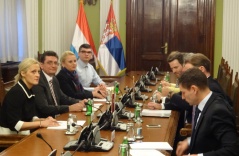 29 March 2017 National Assembly Deputy Speaker Veroljub Arsic and the delegation of the Grand Duchy of Luxembourg
Wednesday, 29 March 2017
Luxembourg Supports Serbia's Euro-Integration and Belgrade-Pristina Dialogue
National Assembly Deputy Speaker Veroljub Arsic welcomed the delegation of the Grand Duchy of Luxembourg, headed by Foreign Minister H.E. Jean Asselborn, on the behalf of the National Assembly Speaker and himself.
---
Arsic thanked Luxembourg for its support of Serbia as an EU candidate and the opening of negotiation chapters. He also thanked it for its support in the Belgrade-Pristina dialogue adding that the biggest challenge there is not communication but putting the agreements into practice. "Serbia has implemented almost all the measures of the Brussels Agreement, unlike the Pristina administration", said Arsic. He stressed that the Republic of Serbia will never recognize the independence of Kosovo-Metohija, but is ready to use dialogue to achieve stability in the region.

The Deputy Speaker went on to say that the cooperation between the two countries is good, but that there is always room for improvement, adding that he was sure this visit by the Luxembourg delegation would lead to it. Arsic stressed that the two countries' economic cooperation could be better, and that the Republic of Serbia is the economic leader in the region. He also informed the delegation that the National Assembly has a Parliamentary Friendship Group with Luxembourg and that its numbers, considering that the current parliamentary legislature is still relatively young, are on the rise, and added that the MPs firmly believe that parliamentary cooperation is conducive to better overall relations between the two countries.

The Minister of Foreign Affairs of the Grand Duchy of Luxembourg H.E. Jean Asselborn said that the Luxembourg Parliament has far fewer members than the National Assembly, viz. 60, who are, nevertheless, discussing the establishment of a friendship group with Serbia. Asselborn said that in the course of his visit to the Republic of Serbia he has already been to Pristina, stressing that he was aware that the talks with Pristina are a challenge for Belgrade, however Luxembourg supports both sides and hopes that the talks would yield positive results and mutual benefit. Speaking of economic cooperation the Minister informed the Deputy Speaker about last year's visit by the Luxembourg Chamber of Commerce to Belgrade and the plan to have the President of the Serbian Chamber of Commerce visit Luxembourg to promote cooperation. Also, the Law on the Confirmation of the Agreement on Avoidance of Double Taxation between the two countries passed in December of last year was said to have had a positive impact on economic cooperation. The Minister added that a plan for a Luxembourg-Istanbul railway line is being drafted at the moment, which is to go through Serbia and could be economically beneficial to both countries.


---
---
friday, 4 december
No announcements for selected date