National Assembly of the Republic of Serbia / Activities / Activity details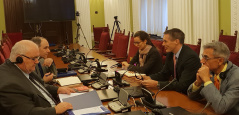 14 December 2018 The Chairman of the Committee on Constitutional and Legislative Issues in meeting with the Head of the Democratization Department in the OSCE Mission to Serbia
Friday, 14 December 2018
Komlenski Speaks to OSCE Mission Democratization Department about Constitution Adoption Procedure
The Chairman of the Committee on Constitutional and Legislative Issues Djordje Komlenski met today with the Head of the Democratization Department in the OSCE Mission to Serbia John Clayton and associates.
---
The topic of the meeting was changes to the Constitution of the Republic of Serbia and the Committee Chairman explained the procedure for the adoption of the Constitution. The proposal is submitted in writing by a proposer and the competent committee determines that the proposal is submitted by a proposer authorised by the Constitution and that it is submitted in a prescribed form.

The National Assembly debates the proposal no earlier than 30 days after the proposal has been submitted and if the National Assembly adopts the proposal, the competent committee determines the draft proposal of an act on the amendment of the Constitution, with explanation, and a draft constitutional law for implementation of the Constitution, by majority vote of the total number of the committee members.
The competent committee submits a proposal for the amendment of the Constitution, and the draft of the constitutional law for implementation of the Constitution amendments to the Speaker of the National Assembly, who forwards these proposals on to MPs. In the event the National Assembly is obliged to, according to the Constitution, call for the state referendum on the amendment of the Constitution for the purpose of verification, the National Assembly makes a decision on calling a referendum to confirm the abovementioned document.
The OSCE delegation proceeded to ask about the public hearings organized by the competent committees and who attends them. Komlenski explained that the committee organizing the public hearing chooses who is to attend and makes sure all relevant institutions and NGOs are invited.
John Clayton said that the OSCE is open for cooperation and assistance and praised the parliament's openness to the citizens and NGOs.


---
---
wednesday, 8 july
No announcements for selected date