National Assembly of the Republic of Serbia / Activities / Activity details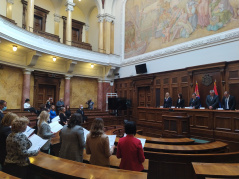 26 October 2021 The judges taking the oath of office before National Assembly Speaker Ivica Dacic
Tuesday, 26 October 2021
Judges Take Oath of Office before National Assembly Speaker Ivica Dacic
Judges elected to judicial office for the first time, at the Second Sitting of the Second Regular Session of the National Assembly of the Republic of Serbia in 2021, held on 14 October 2021, took the oath of office today, at the National Assembly House, before National Assembly Speaker Ivica Dacic.
---
The National Assembly Speaker expressed his conviction that the newly-elected judges would arbitrate independently and without bias, in line with the law and Constitution, following only their conscience, to ensure a just trial for every citizen of the Republic of Serbia.

"We believe that in the course of your three-year mandate in courts of general and special jurisdiction you will contribute to the continued reform of the judiciary system, to build an independent, modern and efficient judiciary and advance the rule of law as a whole", Ivica Dacic told the newly-elected judges.

The oath-taking ceremony was attended by Minister of Justice Maja Popovic, President of the Supreme Court of Cassation and the High Judicial Council Jasmina Vasovic, National Assembly Secretary General Veljko Odalovic and National Assembly Deputy Secretary General Branko Marinkovic.




---
Photo gallery
---
---
saturday, 25 june
No announcements for selected date