National Assembly of the Republic of Serbia / Activities / Activity details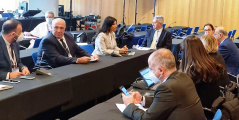 29 November 2021 The participants of the meeting of the IPU Group of Facilitator for Cyprus
Monday, 29 November 2021
IPU Group of Facilitators for Cyprus
Dr Milorad Mijatovic, member of the National Assembly's standing delegation to the Inter-Parliamentary Union (IPU), took part in the meeting of the IPU Group of Facilitators for Cyprus on 27 November 2021.
---
The meeting of the Group, comprising two facilitators from Serbia and Italy, was held in the presence of two representatives of the Cypriot House of Representatives and five representatives of Turkish Cypriot political parties.

In the course of the meeting, the participants expressed commitment to overcome the stalemate in the negotiations and continue them as soon as possible, in order to find a solution to the Cyprus issue, in accordance with existing UN resolutions and decisions and EU values and principles. They stressed that a functional and sustainable solution would be useful for the future of all the citizens of Cyprus, as well as for preserving the stability, security and prosperity of the Eastern European region.


---
---
thursday, 11 august
No announcements for selected date